Want to turn your cluttered excel sheets into a gold mine for customer success? The right CRM system can help you optimize your operations and boost your customer service up a notch. 
This guide will help you understand the different functionalities of CRMs and how they can be a valuable ally for your company. We have also compiled recommendations with the different prices and free trial periods. The secret is knowing how to filter between the different types to choose the one that best suits your company's needs and, of course, the resources you have available.
Why does my business need a CRM? 
Among the benefits of CRM is that you can count on clearly defined processes and control each stage of a sales process. This is just one of the many benefits you could get. Other benefits of CRMs are the following:
To automate repetitive processes in sales operations and marketing. Such as scheduling email marketing campaigns or follow-up sales messages.
To centralize customer information and give everyone in your organization easy access.

To get constant feedback to detect what's not working and not. CRM systems allow you to track errors in processes and behavior.

To make better-informed decisions about future operations. You'll have more information to design better target audiences and robust promotional campaigns.
Now that you know some of the reasons why you should have a CRM system let's understand what things you should consider when choosing the right CRM system for your business.
Five things to consider when choosing the right CRM system 
Now, we are going to develop five key aspects you should consider when choosing a CRM that can meet the needs of your business.
1) Identify your business needs and goals 
Before looking at CRM features and functionalities, figure out your business goals and objectives. What do you wish to improve or change about the customer service and management experience? 
Organize a brainstorming session to list and outline SMART objectives (Specific, Measurable, Achievable, Relevant, and Timebound). This will help you understand what CRM features will help you throughout the process of reaching these goals.
Don't forget to get feedback from key team members. They'll be the ones working to help you reach those objectives.
2) Pick between a Cloud or On-premises CRM
Understanding the differences between a Cloud Solution (Software-as-a-Service/SaaS) or an On-Premises CRM is easier than you think. An on-premises solution will allow you to host all your data physically in one location with direct access, allowing you to integrate all your custom applications in one place. On the other side, cloud-based CRMs only need an internet browser to connect, but all your information depends on your vendor's server. Outweigh the pros and cons and pick what works best for your business.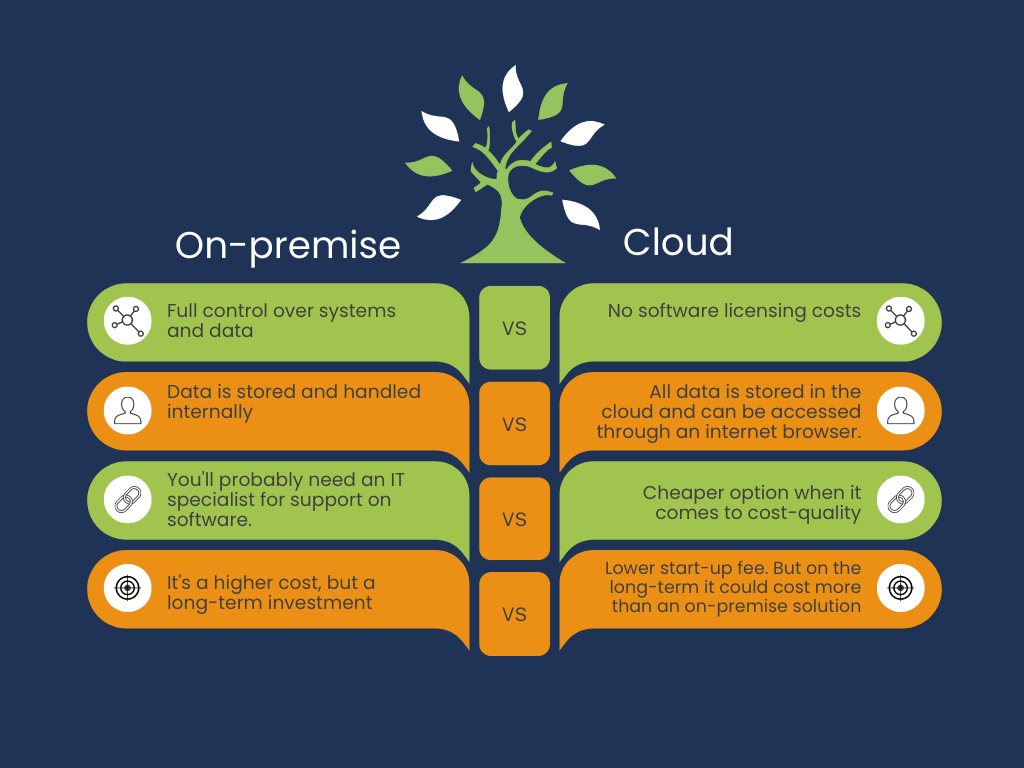 Remember, this solution can help your business in the short term. Stay open to the possibility of changing to meet the objectives of your evolving business.
3) Know what features and functionality you need
When buying a CRM for the first time, many businesses underestimate the number of tools or features they need. Take into account that you will not need all the different CRMs' functionalities. Focus on the ones you will need to meet your business goals. Once you set your SMART goals, you can guide yourself with the following questions:
What workflows and operational processes need to be integrated?

How many CRM users do we need?

Do we need to incorporate more software or apps?

What's your current budget?
By answering these questions, the next step is for you to understand which CRM features will help you meet your goals. Some key functionalities that quality CRMs include are the following:
Third-party integration: Integrating accounting software, websites, billing, and social media accounts.

Automation: Automated data collection, analysis, marketing campaigns, and other tasks.

Dashboards and reports: Personalized reports and visual graphics. 

Lead management, scoring, and tracking: What will you be able to do with the lead information you have in your hands?

Contact management: Will you be able to segment contacts and groups to gather valuable data?

Data security: Two-factor authentication, advanced user permissions.

Customer support: 24-hour phone technical service or live chat.
Did you know that there are three types of CRM systems? Figure out if your business will make better use of collaborative, operational, or analytical CRMs; read Types of CRM software and their benefits.
4) Sign up for a free CRM test drive 
Once you have made your list of must-need features for your business, it's time to pick two to three CRMs that match these requisites. Next, compare CRMs for functionality and price and sign up for a free CRM test drive. The best free trial CRMs will give you access to all features so you can get a solid evaluation of the product. 
Pick critical members of your teams to get access to the free trials and ask for their sincere and honest feedback. You can also ask for a live demo and schedule a meeting so your team can learn and ask for features. 
5) Select the winning CRM and implement it into your business
You did your research, listed preferred functionalities, and got some feedback on your trial tests! So now it's time to make your pick! Don't you feel more confident about getting the best for your buck this way? 
Please select the best CRM system for your business, and don't forget to consolidate a step-by-step plan to implement it into your business operations. Make sure to include tutorials on moving your current data into the system and check up on your team to see if they have any user questions. 
Top-rated CRMs by price and features
There are way too many CRMs on the market. Here are five solutions you can choose with different prices and the best features. Select the best fit for your needs and start working- most offer free trials.
Investing in top-quality customer service can make a big difference
Businesses that are customer-focused thrive. It's time to make an extra effort to understand how your customers think and provide them with a personalized service that makes them feel special.
If all you need is an extra set of funds to invest in a new CRM system, a team of marketing specialists, or other customer service assets, we can help. We offer fast working capital opportunities for small and mid-sized businesses. Check if you pre-qualify in just minutes through this quick and easy online form.
Disclaimer: The content of this post has been prepared for informational purposes only. It is not intended to provide and should not be relied on for tax, legal, or accounting advice. Consult with your tax, legal, and accounting advisor before engaging in any transaction.