Women's business awards are both beneficial for individual and collective growth. They reassure women that they're fulfilling their purpose and making a valuable contribution to their industry, colleagues, and clients. But most importantly, they give women more visibility and growth possibilities and inspire aspiring professionals to aim high. 
If you are a woman in business or have an ideal candidate in mind, below you'll find a list of national and international awards you should consider. We've gathered helpful information about submission deadlines, entry requirements, and benefits, so you have everything you need to succeed in one place.
1. National and regional awards for women in business 
Different private and government entities want to reward and encourage other entrepreneurs, women, and professional leaders on their way to success. Some only apply to a specific region, but others are open to US Citizens nationwide. 
a) EY Entrepreneurial Winning Women™: This program targets American and Canadian women founders from different industries who have created profitable and growth-enhanced companies. Important dates: The submission and entry deadlines will be announced on the EY Entrepreneurial Winning Women website. Cost: Free. 
b) Dream Big Awards: The US Chamber of Commerce annually recognizes American small businesses with a $25,000 cash price. There are eight different categories, such as Green/Sustainable Business or Woman-Owned Business you can qualify for. Important dates: Applications are open until mid-July. Cost: Free. More details at the Dream Big Awards official site.
c) Crain's 40 under 40: All professionals and leaders under 39 in different industries such as technology, real estate, health care, and finance will be able to be nominated for this award by a co-worker or themselves. Important dates: There are currently three regional awards based in Chicago, New York, and Cleveland with different deadlines. Cost: $199 per entry or nomination. Look at their respective regional websites for more information.
d) Hartford Business Journal Women in Business Award: This recognition honors 25 different women each year at the forefront of their industries in the New England region. Important dates: The award announcement is in April 2022, and submissions close during the first quarter of the year. Cost: Free. Check out the Top 25 Women in Business Award website. 
e) Portland Women of Influence: Portland Business media honors 25 influential businesswoman leaders from the Pacific Northwest community in different industries. Important dates: The submission deadline is December, and the awards ceremony takes place in March. Cost: See the Portland Business website for more details.  
Besides awards or recognitions, many helpful resources are specifically aimed at professional women and entrepreneurs. For example, suppose you're looking to open your network, expand your skillset, or get new grants. In that case, the Online Platforms Empowering Female Entrepreneurs To Success guide will come in handy. 
2. International awards for women in business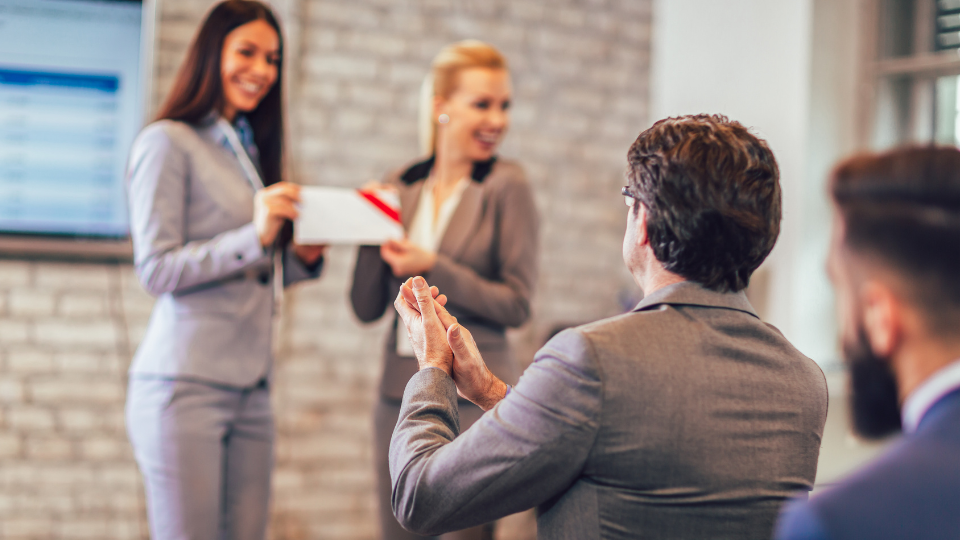 International awards are an impressive means to connect with other inspirational professional women worldwide. Especially as we find ourselves more connected and working remotely from different parts of the world. The following awards are aimed at increasing the visibility of women's achievements and milestones.  
a) Women in Governance, Risk, and Compliance Award: If you are a professional woman with years of experience in Governance, Risk, and Compliance, you could qualify for different recognition categories such as ESG Officer of the Year or Head of Financial Crime. Important dates: Entries are open from March until late August. Winners are announced in September. Cost: Free, and you can apply for as many categories as possible. For terms and conditions, check out the GRC official website.
b) The Women's Business Small Business Awards: This global virtual and in-person awards ceremony takes place across five countries: Australia, Canada, South Africa, the UK, the USA, and the Philippines. There are more than a dozen recognition categories ranging from Businesswoman of the Year to Business Mum of the Year. Important dates: For the in-person awards, the deadline is late August, and October for the virtual awards. The awards ceremonies are held in December. Cost: Submissions are free, but convention tickets go from $300-$2000. For more information, consult with the Women Business site. 
c) Women in Agribusiness Demeter Award of Excellence: This award is for women in the agribusiness industry who have positively impacted their clients, company, and colleagues. Important dates: The entry deadline is mid-July, and the award is hosted in September. Cost: Free. You can get more information about requirements and nominate a candidate at the Demeter Women in Agribusiness site. 
d) Leadership Summit & Awards: This award celebrates professional women leaders internationally. There are different categories women can qualify for, such as Social Impact, Start-Up, and Female Entrepreneurs. Important dates: The last submission date is mid-September, and the final Awards Ceremony and Summit take place in November. Cost: Free. Get more information at the Forward Ladies website. 
e) Cynopsis Top Women in Media Awards: This award is for women in entertainment, technology, and sports media. Different categories are available such as Ad-Tech Innovators, Corporate Visionaries, or Marketing trailblazers. Important dates: The last submission date is June, and the ceremony takes place in October at the Media Awards Gala in New York City. Cost: The early bird is $499, and the Late deadline is $599. You can get more detail and contact information at the Cynopsis website. 
f) #ewTLAAwards: Every Woman in Transport & Logistics Awards is sponsored by Amazon, FedEx, and other renowned brands in the industry. In each category, there will be two winners, one that receives an Above and Beyond Award and another for the Leader Award. This is to encourage beginners and experts alike. Important dates: Deadlines are in the year's first quarter and the awards ceremony in June. Cost: Free. For more information, tune into the Every Woman Forum website.  
g) Women World Awards: The Globe awards recognize women entrepreneurs, executives, and employees from both profit and non-profit organizations. There are many categories to choose from, such as Women Excellence of the Year or best Women-Owned business. Important dates: Early bird deadline starts in early May and closes in August. Winners are announced in late August. Cost: The fees depend on the award category and submission date but range from $160 to $800. See more information at the official Global awards website. 
h) Women in Technology and Data: This event hopes to recognize and promote women in this underrepresented industry. Different categories are available, such as "Best Company for diversity and inclusion" or "Consultant of the year" Important dates: The deadline for submitting entries is January, and winners are announced in March. Cost: Free. For more information, consult Waters Technology's official site. 
Business funding for women!
Celebrating women's accomplishments is a must- but so is getting access to working capital or business funding to help women business owners expand and grow their operations. New women business owners are often underfunded compared to male entrepreneurs, and it's our responsibility to do the best we can to close the gap. 
One Park Financial's working capital programs advocate for women entrepreneurs. If you've been in business for at least three months and are already generating more than $7,500, you can check if you pre-qualify for funding.
Disclaimer: The content of this article is based on the author's opinions and recommendations alone. This material has been prepared for informational purposes only. It is not intended to provide and should not be relied on for tax, legal, or accounting advice. We suggest consulting with your tax, legal, and accounting advisor before engaging in any transaction.