There are already more than 31 million small business owners that have plunged into entrepreneurship success. Together, they create new jobs, nurture their community, and inspire us to be the masters of our dreams. It's time to join one of the most powerful economic forces in our country.
Do you want to join the ranks of successful entrepreneurs around the country but don't know where to start? Follow the following tips to kickstart your business.
1. Set goals and objectives
Even Antoine de Saint-Exupéry, one of the most prevalent dreamers of all times, once said: "A goal without a plan is just a wish." To find the perfect recipe for entrepreneurship success, you'll have to define what goals and objectives you'll want to achieve. Let's explain both concepts first:
Goals- The composition of a grander scheme and strategy. Your goals should define where you want to go and when you'll get there.

Objectives- These are specific tasks or procedures you'll need to accomplish to reach that goal. They are specific and tell you what to do and when to do it. 
You can think of goals and objectives in the following way:
If your goal is to get 100 new sales in your new e-commerce store by March.
Your objectives could be:
To gain awareness of local audiences. Air a local radio ad by January 15.

Attracting new leads on social media. Announce a special give-away with your products or services by January 29.

To generate three pieces of content every month with SEO to attract traffic to your site. 
Once you define those objectives, it's time to build the solid foundations of your goals, your business plan, and the road map to your entrepreneurial journey.
There are many templates to use when it comes to coming up with a business plan; you can go for the traditional or a more "start-up" format. To pick the best business plan format for your business and get more insight Top 10 Components of a Business Plan.  
2. Do your market research
Your business concept is solid as a diamond. But is it as profitable as a diamond? The best way to predict the success of your business is to figure out if there's a growing demand for your product or service through market research. Some of the key questions to include in your market research are the following: 
Is your industry or market already saturated in your local area? 

What is the profitability of your industry? What are the growth projections for this sector? 

Is there an unmet demand for this market? 

What are some challenges that your business sector could face this 2022? 

What is your competition? Why are they thriving? Where are they lacking behind? 

What added value can distinguish your business from the established competition? 

Who is your target audience? 
Market research should give you information about demand, and competition and help you set a possible market price for your services or products. Make sure to include: demographic and economic data, information from your the local chamber of commerce, an analysis of your competition, and opinions from your potential customers. 
3. Figure out your business finances
So... just how much money will you need to fuel your business plan? You'll need to set financial goals, track cash flow, and get ready to seek funds to invest in your business goals. Follow the following tips:
List your business costs and expenses: 
Make a checklist of the costs you'll need to run your business.
Break down your financial costs: 
Split them down into smaller tasks and set measurable deadlines for them. 
Take care of your cash flow:
To monitor your cash flow, you should figure out your burn rate. This is the rate at which your new business spends its working capital to finance overhead before generating profits or positive cash flow from sales or services. 
Plan for the worst-case scenario.
These past two years have taught us that change is the only thing that remains constant. So make sure you have an emergency fund for the unpredictable.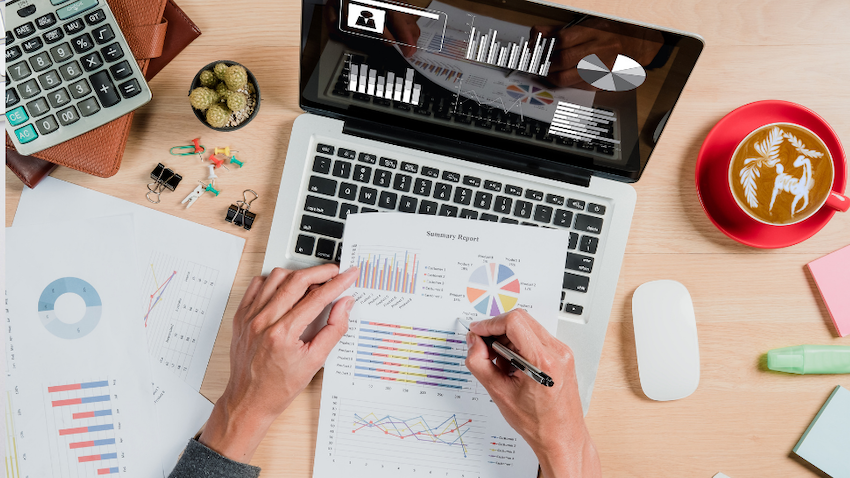 4. Design a marketing strategy
We know you're so proud of your new business idea! Let's funnel that pride into a strong marketing strategy to reach potential customers and build an outstanding reputation for your small business! Dig back into your goals and objectives to see what marketing strategy will help you accomplish them.
You'll also want to do some research to decide the best marketing and social media channels for your business, work on a webpage, and most importantly, that you have the knowledge, skills, and time and energy for it. We know... the complex world of digital marketing can be too much to handle if you're starting from scratch, but our best tip is to ensure that your strategy includes "The 4 Ps" of Marketing:
Product

Price

Place

Promotion
Get more insight into how much money you should set aside for a marketing budget.
5. Invest in the right team and its well-being! 
A one-man band sounds busy, hectic, and burns you out! Instead, invest in the right team for your business and make sure that they feel valued every step of the way. In the beginning, this might mean partnering up with somebody else. Variety and diversity are critical if you want to ensure that your business thrives in all directions. 
As you write your business plan, detect the areas you need extra help or knowledge. You can organize your team depending on processes, stages, and workflow. Ensure that you establish an organizational approach to show your team is valued and cared for. 
6. Take advantage of online business resources
The world wide web is loaded with free goodies and resources for entrepreneurs! 
- Browse all of our free resources and information for entrepreneurs in our One Park Financial blog! 
- Find your free business mentor. 
- Set up your new business plan with an accessible Business plan template. 
- Connect with Small Business Development Centers in your area.
- Get free marketing templates at Hubspot or Canva.
- Schedule your social media posts on Hootsuite.
Access to capital for entrepreneurs
You already have the essential tips for launching your business this year. Now all you need is working capital to invest in them. Unfortunately, new business owners often have difficulty when it comes to accessing funding. Traditional funding methods might ask for years as an established business or a perfect credit score. 
One Park Financial's business funding programs work to give entrepreneurs with more than three months of operations and at least $7,500 in monthly revenue the working capital they need to make it happen- fast. Our funders specialize in providing options designed to meet the needs of small businesses. We're more concerned about your business's potential than your credit score. Check if you pre-qualify in minutes here and launch your business for success this 2022!