5 essential steps to strategic marketing planning
---
Wed | July 2022
---
Unifying a team's efforts with a detailed marketing plan is essential to success in business. Once a product or service is ready to be sold, stakeholders should develop a strategic plan to reach their target customers. The strategic marketing planning process entails developing a marketing strategy that details your goals, the programs you'll use, who will be in charge of tracking the metrics, and when you'll be doing them. This article discusses the components of a strategic marketing plan and the steps to create the perfect strategy for your small business.
Components of a strategic marketing plan
You can include the following components in your marketing plan: 
Mission and vision: Include details like who and what you will sell to in your pitch.

Business objectives: You can find this on your business plan.

Marketing objectives: Here, you can set your goals for marketing and strategy. 

Buyer personas: Detailed information about your buyer persona. Who are you attracting? Who are these ideal buyers?

Positioning statement: Description of your product, target market, and where you lay within the need to fill any gaps and justify your business.

Value proposition: In this section, you should explain the promise of value you are doing to your customers - what do you want to deliver?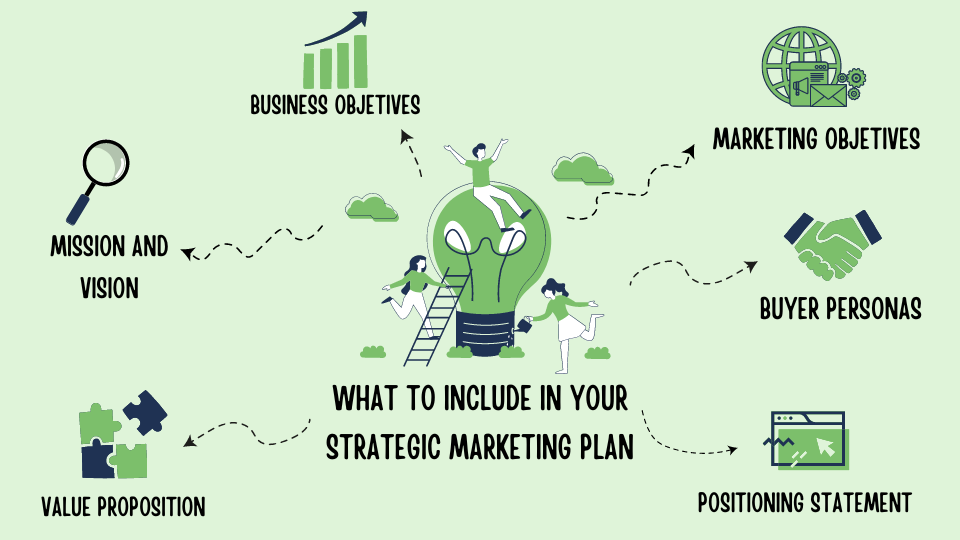 Five steps to strategic marketing planning for your business
The following sections describe the recommended steps to creating a perfect marketing plan for your business:
1. Mission
Before taking further action, your marketing executives and stakeholders must have a seat and discuss your company's mission and the goals and objectives guiding your strategic marketing. Your company might already have this, which is fantastic since you are already ahead. 
If you don't have it, your company's mission statement should describe why it exists, operates, and supports and benefits its clients. Some mission statements are aspirational and inspiring, while others take a more official tack, but make sure they follow you who are and your culture. Make sure to use SMART goals when it comes to goals and objectives. The SMART goals stands for:
Specific

Measurable

Aspirational

Realistic

Time-bound
You should anticipate your approaches to change frequently because the world of digital marketing is constantly evolving. However, your fundamental objectives and the central aim should be more timeless. Marketing procedures must be stiff enough to last over time and flexible enough to pivot quickly when necessary.
2. Situation analysis
With your mission statement, aims, and objectives outlined, it's essential to go outside your organization to determine where it stands within the more significant industry and with present clients. SWOT analysis and positioning research are two crucial tactics that are part of this process. Remember that SWOT means:
Strengths

Weaknesses

Opportunities

Threats
With positioning research, you can find out how the brand is perceived compared to your competitors through your customer's eyes. This will help you create a more compelling brand identity that will resonate with your public. 
3. Marketing Strategy
For your marketing tactics, you have to use the 4 Ps of marketing which consists of the following components:
Product: What you offer following the market needs.

Price: The cost of your product and the value you provide to the customer.

Promotion: The marketing efforts you will use to support the product selling.

Place: Where you want to distribute your marketing plan, including both physical and digital distribution channels.
With this in mind, you must consider your marketing budget and where you want to allocate it. Learn about "How to create a marketing budget for a small business in 5 steps".
4. Implementation
Once you have the previous steps, it's time to put your strategic marketing plan to work. Creating content has begun with the definition of benchmarks, the provision of investments, and the adoption of strategies. You'll need to gather and validate all the data related to your marketing operations in addition to developing content, such as performance metrics, marketing leads, and brand awareness.
5. Monitor your results
You can't just leave your marketing plan to stay the same forever. It would be best if you kept in mind that your process is an ongoing effort. You should change and adapt as the market transforms. 
Once your marketing strategies and tactics have been implemented, you must constantly reflect on your set goals and objectives and the metrics you developed in conjunction with them by your SMART planning. These are essential for assisting you in evaluating the overall performance of your initiatives in light of your mission statement and goals and improving where needed.
Ready to invest in your marketing plan?
Create the best strategic marketing plan with a company that knows your needs. One Park Financial helps owners of small and mid-sized businesses to access funds fast for any needs. As long as you have at least three months in business and at least $7,500 in monthly revenue, we can help you quickly find the working capital you need. Allow yourself to focus on expanding your business through your super-charged marketing budget.
Disclaimer: The content of this post has been prepared for informational purposes only. It is not intended to provide and should not be relied on for tax, legal, or accounting advice. Consult with your tax, legal, and accounting advisor before engaging in any transaction.