Solar energy pros and cons: Is solar worth it for my business?
---
Thu | August 2022
---
Small businesses could benefit significantly by installing solar panels in their offices. You may benefit from sizable tax credits and money-saving opportunities. Solar panels are more environmentally friendly, attracting potential customers and employees. 
They may even enable you to generate income by selling surplus energy to utilities. In this article, we have put up a list of solar energy pros and cons for businesses to help you decide whether or not solar is good for you. You can use these to help you understand if solar power suits your company.
Why is solar energy necessary? 
When fossil fuels, such as oil, coal, and gas, are burned to generate energy, they emit harmful greenhouse gases, such as carbon dioxide. These processes cause carbon dioxide emissions, which aid in climate change. On the other hand, solar energy is renewable energy derived from natural sources. Renewable energy produces far fewer emissions than burning fossil fuels. 
Also, solar energy costs 70% less than it did ten years ago, and more effective systems are in place due to advanced solar panel technology. Public support for solar power has been growing, making it a popular choice for business owners to fuel their businesses. Below we will examine solar energy's pros and cons for your business.
Solar energy pros
Solar technologies have the potential to provide heat, cooling, natural lighting, electricity, and fuel for a wide range of applications. Solar technologies use photovoltaic panels or mirrors to concentrate solar radiation to convert sunlight into electrical energy. Transitioning from fossil fuels, which currently account for most emissions, toward renewable energy is critical for addressing the climate crisis. 
But what are the advantages and disadvantages of powering your business with solar energy? Let us begin by going over the solar energy pros. 
Lower electric bills for your business
You will significantly reduce your energy costs if you switch to solar power. Electricity bills cost the average commercial property owner around $2,000 per month. After installing rooftop solar, the monthly price drops to around $500. That is a 75% reduction in energy costs!
While the initial cost appears to be a significant investment, using solar energy is a long-term investment. Your electricity will be accessible once the cost of purchasing and installing solar panels has been determined. The sole exception is when there isn't enough sunshine to produce electricity, such as on cloudy days. During those days, you could use standard electricity as a backup, solar energy stores in battery systems for use in overcast or dark conditions.
Great tax incentives
The government appreciates solar's positive environmental effects. They are significantly reducing the cost of solar energy to encourage more enterprises to adopt it. The Investment Tax Credit (ITC) is currently a 30 percent federal tax credit claimed against the tax liability of residential (under Section 25D) and commercial and utility (under Section 48) investors in solar energy property. As a business owner, you can claim the Section 48 credit by installing, developing, and financing the project.
Consider that commercial and utility-scale projects that begin construction before December 31, 2023, may still be eligible for the 26 or 22 percent of ITC if completed before January 1, 2026. You can miss out on a significant amount of money if you put off installing solar. 
Want to read more about the Solar Investment Tax Credit (ITC)? 
Improves your business value
Sustainability in business has become a topic of interest for both customers and employees. Customers are now looking at carbon footprints more than ever. Sustainable practices are now an attractive plus in every angle you look at; for example, it demonstrates your commitment to sustainable practices is installing solar panels. Depending on your customer or employee profile, it may be wise to mention your solar panel installation in your marketing strategy. 
Want to learn more: How to develop a small business sustainability plan?
Require little to no maintenance 
Solar panels are made of tempered glass and can withstand hail, strong winds, and other inclement weather. A solar panel's productive lifetime can span 25 years or more. Once installed and configured, a solar power system will require little to no maintenance after installation.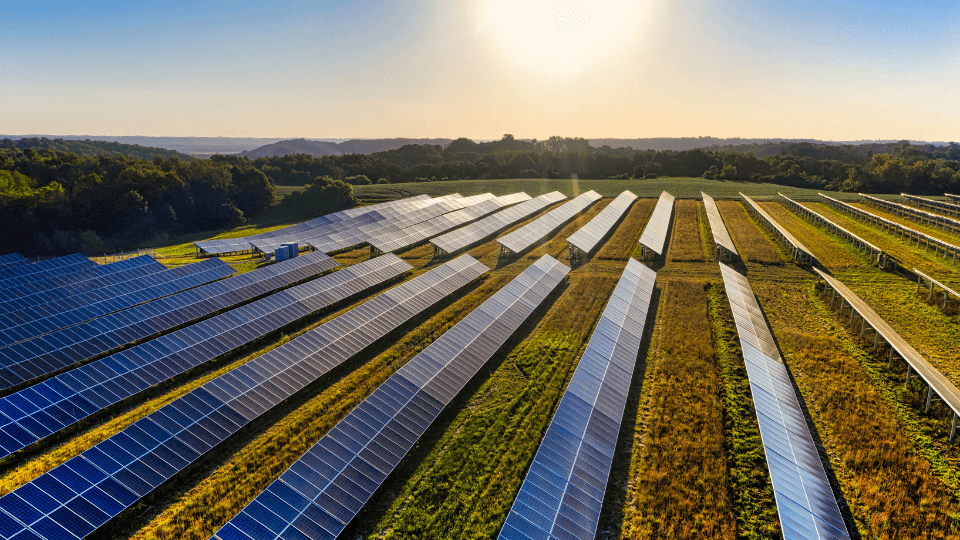 Solar energy cons
Going solar in your business is a decision that has to be considered a wise long-term investment. Your system may need a few years to generate enough electricity to cover its cost. But when it works, it produces pure savings, allowing you to keep the money in your pocket or put it to use somewhere else. The cons of solar energy include the following:
High investment costs
For many small businesses, the upfront cost of solar installation is one of the most considerable obstacles to changing to this energy source. Although prices have significantly decreased, it still requires a sizable investment. Switching to solar energy necessitates an initial investment in equipment and installation. However, after that initial cost, the only recurring charge is the electricity you use beyond the power your solar panel generates.

Because commercial solar panel systems are more extensive than residential ones, they will cost more in the long run. Installation costs for a 100 kW system, which generates roughly enough electricity to offset a $1,200/month electric bill, can range from around $220,900 before tax credits to about $107,598 after. 
It's not a universal solution 
The orientation of your business toward the sun, the amount of shade it receives, and the type of roof you have all impact the output of a solar system. For the majority of rooftops, solar panels will work well. However, installation prices could be significantly higher depending on the nature of your roof. For example, installing panels on a roof with a steep slope will call for extra caution. 
On the other hand, a flat roof can have drainage problems. You must consider where your roof is facing, obstacles, structures, and your business's environment. There are other alternatives to rooftop panels, but you must consult an expert first. 
Lower electricity costs could mean fewer savings
If your electricity costs are already cheap, then the savings from solar energy won't be as considerable and beneficial. The initial cost of obtaining and installing solar panels would take longer to pay for themselves. For this reason, some business owners decide it's not worth the significant up-front expense. You should consider this with your team and see if all the further benefits outweigh the fewer savings issue. 
Should your business invest in solar?
Despite its many advantages, solar energy isn't right for every business. Going green will reduce operating expenses and serve as a great PR and marketing tool. An environmentally responsible image is suitable for any company, as it can generate a positive response from consumers. But on the other hand, it costs a lot to set up, and finding a reliable installation can be challenging. If your electric cost is low, making a move might not be worthwhile.
So if you have made up your mind and are looking at financial options so you can invest in solar energy, One Park Financial is here to help! If you have been in business for three months or more and generate at least $7,500 in monthly revenue, get started today!
Disclaimer: The content of this post has been prepared for informational purposes only. It is not intended to provide and should not be relied on for tax, legal, or accounting advice. Consult with your tax, legal, and accounting advisor before engaging in any transaction.