If you bought it, a truck brought it. Most of the supplies delivered nationwide to retail stores, hospitals, construction sites, banks, and even clean water supplies depend on the trucking industry. 
Yes, the trucking industry doesn't just move raw materials, supplies, and manufactured items. According to the 2021 Statista Trucking Industry Report, it also moves a 732.3-billion-dollar market and employs more than 902,000 truck drivers nationwide. 
Are you already part of this powerful industry? Are you currently thinking about starting your own trucking business? Then you need funding. Funding can enhance your opportunities when the road is wide open and aid you whenever you encounter bumps or delays. We've compiled plenty of options, read on, and drive away into success!
Why is the trucking industry so important?
Did you know that most of the long-distance freight trucking companies in the US are owned by small businesses? According to the American Trucking Association' stats, large corporate operators like IBIS World, FedEx, or the United Parcel of America only hold less than a 5% share of the total market.Here are some trucking industry facts and figures:
What are the problems the trucking industry is facing?
Driver-Related Costs:
According to a 2021 Statista survey, 85% of truck drivers stated that driver-related expenses were one of the most significant challenges they encountered this year. Funding can help you cover planned and unexpected expenses during your short and long-distance travel.
Employee Retention: 
Is one of the biggest challenges truck drivers face worldwide. Truck drivers must endure difficult conditions such as long hours driving, time away from home, and the dangerous nature of work. Currently, the average annual wage for truckers is only $43,680, lower than the median income, that's about $46,800 per year. Therefore, increasing salaries to compensate for these conditions or hiring more staff to avoid burning out your current employees is more critical than ever before. 
Expensive Tolls:
Toll charges average around $2500 per year for truckers and vary around states. Truck drivers must have backup cash to pay all of the toll costs they encounter down the road.  
What are the expenses of a trucking company?
A trucking business means investing in a vehicle that will have to endure long hours out on the road and great stress over its operational lifetime. The last thing you want to do is opt for the cheaper, less viable option just because you don't have enough capital. Picking the best choice also means taking care of your safety and the safety of your employees. Here are some expenses you should probably have to cover as a trucking business owner:
Truck maintenance, repairs, and truck part replacements. 

Business expenses during long-distance transportation trips. 

Fuel.

Lease or purchase vehicles to expand your business.

Purchase or upgrade tools and machinery.

Employee salaries, recruitment, and retention.

Adding a new location or increasing warehouse or office space.

New technology.

Marketing for your trucking business. 

Funds for moments of slow growth in your business. 

Parking expenses.

An emergency fund for unexpected accidents.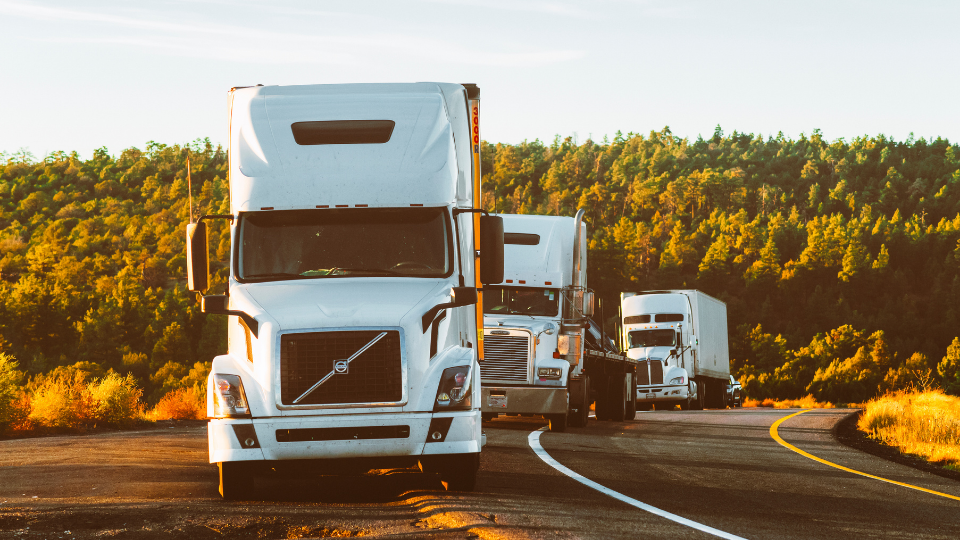 Best Business Loans and Alternative Funding for a Trucking Business.
1. SBA Government Loans and Funding Programs.
The most popular government funding programs for small business owners and trucking companies are Small Business Administration (SBA) loans. Banks, financial institutions, and online lenders are issued these loans, but the US government sponsors them. They can go from $30,000 to $5 million and help you cover some of the expenses we've previously covered. 
The upside is that SBA loans typically have low-interest rates, smaller down payments, and long terms for repayment. The downside is that their application process can be long and strict. You'll probably be required to have a solid credit score, solid business structure, and a stable credit score.
Types of SBA Loans and funding programs for trucking businesses:
The SBA 7(a) Loan Program:
There are seven different types of SBA 7(a) loans that trucking businesses can access too that go from the 7(a) Small Loans to the(7a) Express Loans with 36-hour approval. 
How much funding can you get?
Up to $5 million in financing. The SBA can guarantee 85% of a loan up to $150,000, whereas only 75% is guaranteed with additional funding. 
Payment terms: 
Payments can be extended up to six years, and interest rates can go from 8% to 13%, depending on the lender. 
SBA Micro Loans: 
The SBA Micro Loans can help you cover more minor expenses such as travel expenses, supplies, and the administration and marketing of your trucking business. 
How much funding can you get: 
You can apply for $50,000 or less. The average loan distributed through this program is $13,000, depending on the lender's conditions. 
Payment terms: 
The maximum repayment term allowed for an SBA microloan is six years. Interest rates depend on the lender but generally go from 8-13%. 
Other government-sponsored programs for your trucking business: 
The 8(a) Business Development Program: For small business owners that are socially and economically disadvantaged. 
The Service-Disabled Veteran Owned Program: Gives veterans a competitive advantage for SBA funding. 
The HUBZone Program: Financing for eligible trucking companies in historically underutilized areas. 
2. Grants for Trucking Businesses. 
Unlike popular belief, there are also grants for business owners in the trucking industry. These grants can come from federal or local programs, private entities, and nonprofit associations. Unlike the SBA loans and traditional banks, you won't be required to return the money or subsidy. On the downside, you'll probably have to fulfill a series of extensive requirements, get picked out of many solicitants to qualify, and get the working capital. 
USDA Rural Business Development Program:
If you live and work in a rural area, generate less than $1 million in gross revenue, and have less than 50 workers, you can qualify for this grant. These grants can be used to purchase equipment to pay employee salaries.
LISC Rural Relief Small Business Grants:
Ford and Lowes partnered up to create the Local Initiatives Support Corporation that funds eligible businesses between $5,000 to $20,000. To qualify, your truck must be registered in an area with a rural population of fewer than 50,000 people. In addition, they prioritize minorities and businesses in under-served communities.
NASE Growth Grants:
As we previously stated, most truck business owners are sole proprietors. If this is your case, you can apply for the Growth Grant, awarded monthly and worth $4,000.
3. Trucking Equipment Financing:
Equipment funding is critical for the trucking industry that depends, well, on trucks. We're talking about purchasing trucks valued at anything from $30,000 to $150,000, depending on if the equipment you are purchasing is a commercial truck, tractor, repair tools, heavy-duty vehicles, long-haul semi-trucks, and tow trucks. There are a few limits on how you can expand and mold your trucking business. 
Not only that, but because of the new government and industry regulations, you'll need to renew your truck to make it more mile efficient constantly and environmentally conscious. Equipment funding will allow you to break down expensive equipment costs into smaller payments that are easier to manage. 
Types of Equipment Financing:
Equipment Leases:
An option that's only viable for those who want to rent and not own the truck or equipment is an equipment lease. The downside is that the equipment is not yours. This is just a temporary lease, where you pay month to month to use the equipment for a determined period. Once you pay the lease, you'll have to return the truck or upgrade to another vehicle. Also, the lease costs end up being higher than loans or other types of funding due to their high-interest rates. 
Equipment Loans and Funding:
If you want to purchase equipment and become a proprietor, we suggest reaching out for a loan or other types of funding. Once you finish paying, the equipment will be yours for years to come. The typical option is traditional bank loans, but they typically have higher lending requirements. They will ask you for a high credit score, more than two years in business, collateral, and financial documentation. If this is not the best option for you, you can always opt for different options such as: 
Online term loans

Lines of credit

Asset-based lending. 

Invoice factoring 

Merchant cash advance 

Invoice factoring
4. Alternative Business Funding for Trucking Businesses:
If you've already weighed out the cost-benefits, risks, rewards and none of these options sound convincing. Why not opt for alternative funding? Alternative funding can provide working capital for trucking businesses with revenues as low as $5000 a month and once approved. The funds are typically available within 72 hours. Business owners don't need to have perfect credit scores to be approved. And the typical application process takes minutes, not months.
Alternative business funding typically offers options to finance equipment and incorporate new personal or expand your operations. Some of the funding options available to small businesses are advances in future revenues and unpaid invoices. This flexibility enables people with less than perfect credit to access business funding more efficiently – the funders aren't interested in your credit history; they are focused on your business's potential. 
How to apply for One Park Financial's funding opportunities.
Suppose your trucking business has steady weekly revenues paid into a business bank account. In that case, you could easily pre-qualify for One Park Financial's business loan and alternative funding programs in only minutes.
For more than a decade, we've been working with many small business industries, including trucking businesses. Whatever type of commercial truck financing, utility truck financing, or simple office equipment leasing you need, there are many options. Reach out today. One of our funding experts will be more than happy to discuss your business needs and opportunities to determine what funding type best meets your needs.