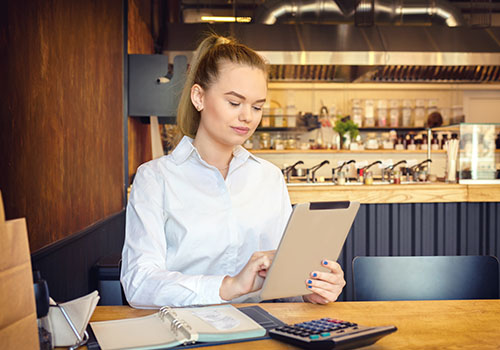 Many small business owners are hesitant to take a salary, especially in the first few years. Lots of bills to be paid- taxes, employee payroll, health care, and many other business expenses.
Even if you've been in business for years, you might still have doubts about how to pay yourself as a business owner. Should I have a salary, or take payment in the form of owner draws? Am I taking enough money from my business? Maybe I'm taking out too much? Where should my payments be showing up in my business finance records?
It's time to answer all those questions. Here's what we'll cover in our guide to help you figure out how to pay yourself as a business owner.
• The main differences between a salary and an owner's draw.
• How understanding your business can help you pick the best way to pay yourself
• How your business entity affects how you pay yourself.
• The best way to calculate your salary or regular owner draws
Main ways to pay yourself as a business owner: Salary or owner's draw
Salary: Amounts to yourself with a payroll, just like an employee of your company would pay themselves, withholding taxes from your paycheck. This is legally required for as S corporations or C corporations, or a Limited liability company (LLC) taxed as a corporation. Notice: The IRS has a "reasonable" compensation requirement, which means your salary should be comparable with what somebody else doing the same job in your industry is making.
Owner's draw: This means that to pay yourself, you'll be drawing money from the profits of your business whenever needed. You can't draw out all your company's cash at once -of course- you'll be limited to drawing up to the amount you put into the company, meaning your owner's equity. Notice: We suggest you regularly set aside cash to budget for your tax bill.
How you pay yourself depends on your business:
Business structure:
Sole proprietorships, partnerships, S corps, and C corps all have different rules about how their owners, members, or shareholders are paid—and taxed. Read more to understand the different types of business entities and their legal structures: Why you should consider changing your sole proprietorship to a Corporation or an LLC
Paying yourself as a sole proprietor or LLC: Unlike a sole proprietorship, an LLC designation can provide some protection towards a business owner's personal assets if a lawsuit should arise. But in the eyes of the IRS, the business is still not separate from the owner. Therefore, all the profit retained by your business will be considered as your income.
A sole proprietor isn't allowed to deduct the payments they take from their business as business expenses. So, the best choice is probably taking out regular payments in the form of draws. These draws should show up on your balance sheet under the equity section as negative entries. Read more about the main differences between incorporating and registering a business
Paying yourself as the owner of an S Corporation or C Corporation: S corp shareholders receive payment both in the form of a regular salary or through distributions. Your salary counts as payroll expenses and shows up in your profit and loss statement. Distributions, on the other hand, appear on the balance sheet.
Any remaining profit is then paid out through distributions or used to increase each shareholder's equity in the business. This remaining profit will have a lower rate than the self-employment tax.
Notice: The IRS tends to turn a more critical eye toward S corps or C corps than other business entities, with disproportionate salary/distribution combinations being a major target. These types of shareholders must also be careful about commingling business and personal expenses. Failure to follow these procedures can expose the members of these types of entities to personal liability in the event of a lawsuit.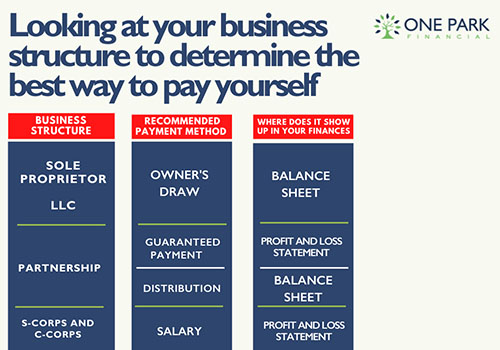 Business stage
If you've recently started your business, you might have been holding off from taking any money. But if you feel that your cash flow is on the right track, then it's the right time to adding your salary into your business's operating expenses. Here's our guide to understanding your statement of cash flow: Statement of Cash Flow. What it is and why do I need it
Personal finances
The payment amount and method you use should cover all your obligations, such as a mortgage, car loan, and basic expenses. If your finances are not strong enough or you are just not paying yourself, that may put you at a disadvantage when seeking small-business financing. Check if you pre-qualify for working capital here.
How to calculate much should you pay yourself:
If you opt for paying yourself in the form of an owner's draw, your pay should come from your business's net profit, which is revenue minus all operational expenses. Ensure that you meet all business obligations before paying yourself. One rule of thumb is to pay yourself a fixed percentage of the business profit so that your compensation can adjust according to the performance of your business.
Invest in business growth to pay yourself:
Perhaps your primary concern is not paying yourself a salary – instead, you need funding for your business. Unfortunately, small business owners rarely qualify for bank loans, their application process is complex and demanding, and the requirements- strict. You may not have the time, know-how, patience, or credit history to qualify for the same financing options designed to meet the needs of big businesses.
One easy way to get the process started is by getting pre-qualified by One Park Financial, a company focused on helping owners of small and mid-sized businesses access funding. Click here to get pre-qualified in less than 2 minutes. You can also visit oneparkfinancial.com and connect with a funding expert to discover the options that make sense for you and your business.
Disclaimer: The content of this article is based on the author's opinions and recommendations alone. This material has been prepared for informational purposes only. It is not intended to provide and should not be relied on for tax, legal, or accounting advice. We suggest consulting with your tax, legal, and accounting advisor before engaging in any transaction.