Google My Business optimization checklist
---
Thu | May 2022
---
Many business owners ask themselves: What is Google My Business (GMB) good for? But the real question right now is, can your business afford not to be on Google? 
Before visiting a business or even considering making a purchase, users will search your business to get an insight into the quality of your products and services. In fact, right now 85% of all engine searches are done with Google. 
I guess this could answer your question. Thankfully, you've come to the right place! Keep reading to get a step-by-step guide on how to optimize your Google My Business profile. It's easier than you think.
The benefits of Google My Business
Your business might be risking endless possibilities by not being showcased on this leading search engine, such as:
Increased traffic to your business online and physical site.

More engagement and feedback from customers

A higher rank on local Google results.

Validation and improved brand reputation. 
Below is our ultimate checklist on how optimize your Google My Business account.
Google My Business profile optimization checklist
We've made it crystal clear, GMB increases your business potential to thrive in and out of the digital world. Time to move on and easily answer the following question: How do I optimize my business on Google? Let's plunge right in.
1. Create, claim, and verify your Google My Business listing
The first step is typing your business' name on Google Maps. If your business doesn't appear, you'll need to create a Google My Business listing. If it does, make sure you claim and verify it. Keep reading and see what option best suits your needs. 
Follow the following steps to create a Google My Business Listing if your business doesn't appear on GMB :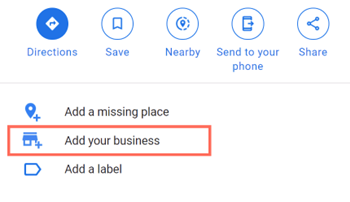 Type your business' address on Google maps. 

Select the option "Add your business." 

Provide helpful information about your business's location and contact information and select "Submit."

You'll receive an email notification from Google that verifies that you're the owner and creator of the Google My Business account. 

You're all set here! Time to move on and optimize your profile with our other tips. 
Below it's what to do if your business appears on GMB and is available: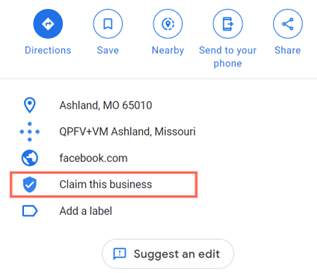 Select the option: "Claim this business:"

Select "Manage Now." Here you'll have to fill out essential information about your business, such as your name, location, phone number, and business website. Keep all formats and data across platforms consistent. 

When you're done, you'll be referred to a window that says, "Finish and manage this listing." 

You're all set here! Now it's time to move on to the next step, verifying your Google My Business account. 
Once you claim your GMB listing, the next step is telling Google that you are the actual owner of your business. You can verify your Google My Business account following the steps below:
Once you log into your Google My Business account, select "Verify now".

Click "Send a postcard". 

Depending on the preferred option, you'll receive a verification number by phone, email, or postcard.  

Select "Verify Now".

Enter the five-digit verification number and click "Submit". 
2. Provide helpful information about your business
The information on your Google My Business profile must provide users with relevant insight and, at the same time, encourage them to visit or interact with your business. You can update your business information by logging into your Google My Business account and clicking on the "Info" tab on the left side. 
Be consistent with all your information across different platforms.
Below you'll find the different sections you'll have to fill out: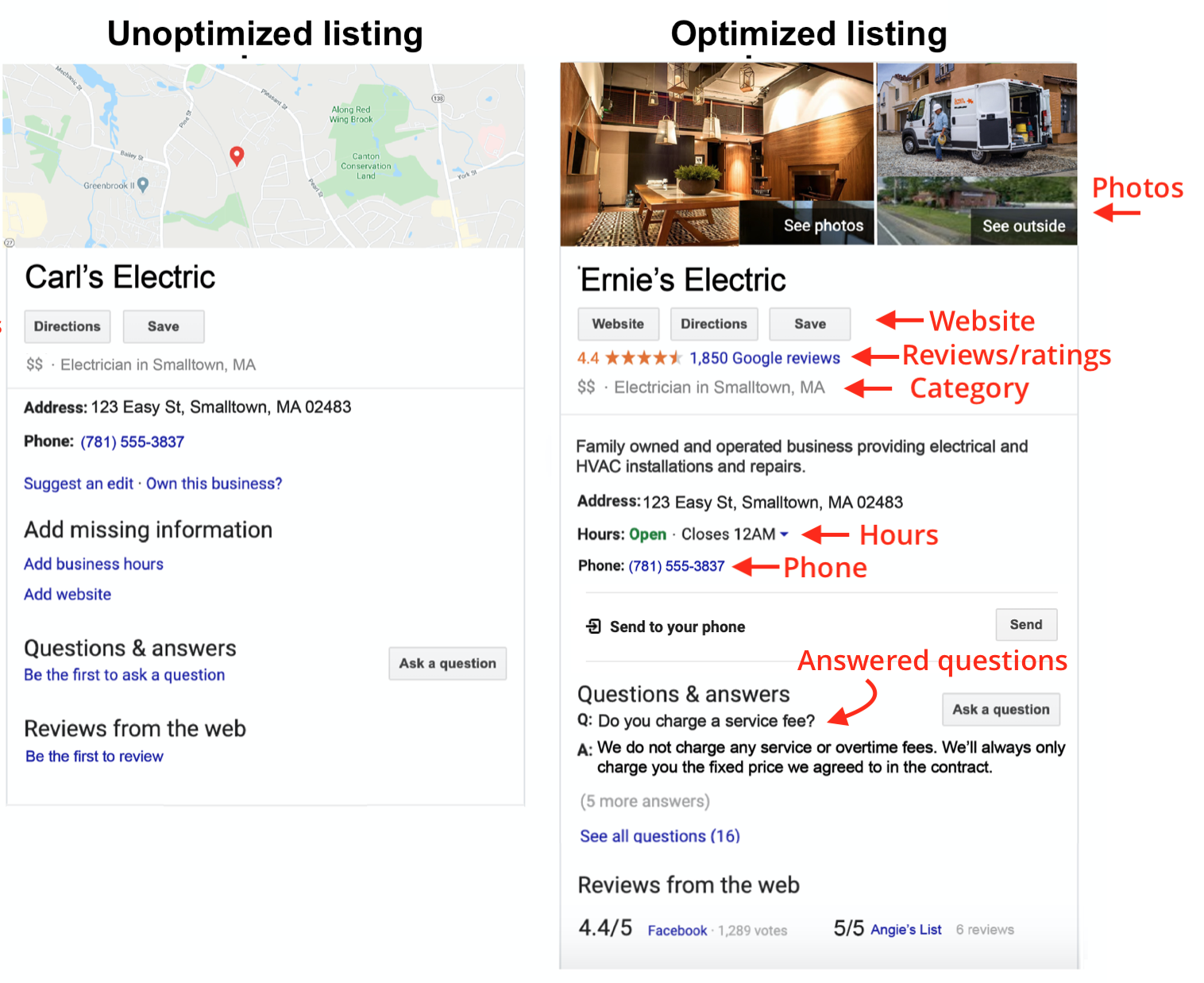 Business name: Use the same name displayed on your signs and other showcased documents. Don't spam your name with taglines, locations, or search terms. Google could suspend you. 
A short name link: You can also create a short name (maximum of 32 characters) for users to share your Google My Business account that links to your business or opens a review for your business. For example, https://g.page/lmidaily links to your company, and https://g.page/lmidaily/review directly leads to reviews. 
Location: Only include a physical address if customers visit your place of business. You can make sure your address is properly formatted with tools like Smarty Streets. 
Business hours: Besides your regular working hours, you should also include special hours for occasions such as holidays, closures, or vacation time. For more information, refer to Google's FAQ about business hours.
Phone Numbers: If you have a call tracking number, we suggest you insert it in your "Primary Phone" field and your primary local phone in "Additional Phone." Only include secondary phone numbers in the "Additional Phone" section if you don't have a tracking number.
Business Categories: Choose your primary business category carefully. It's the first one that users see on your business listing. You can also categorize your business into other classes if they relate.
Business website and valuable links: Google My Business allows you to incorporate links based on your business category. These can be an appointment URL (or the Reserve with Google feature), a menu URL, or booking ordering service links.
You can find some additional features below: 
Services: if you are a service-oriented business, Google will provide you with a different section for each service where you can include a 1000-character description and prices.

Menu: If you have a restaurant-type business, you can use this section to list, classify, and describe your menu. 

Products: This feature is available for retail businesses. You can list, describe, and include the price of your most popular and essential products in this section. 
3. Write a compelling business description
We've got a good one and a bad one. You won't be able to write the first short description below your business name in your profile. Google will do it for you.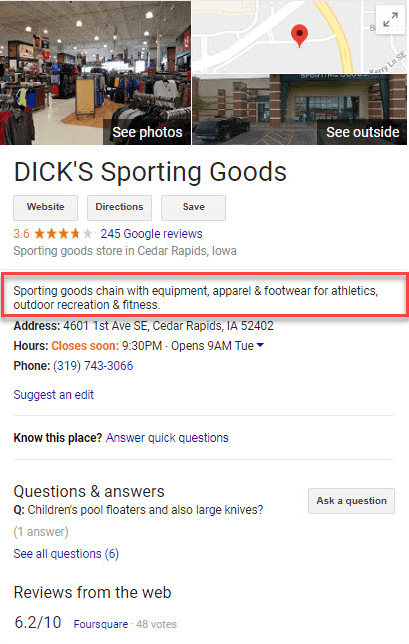 The good news? You do have the choice to use 750 characters to write something compelling yet valuable in your business description section. See an example below: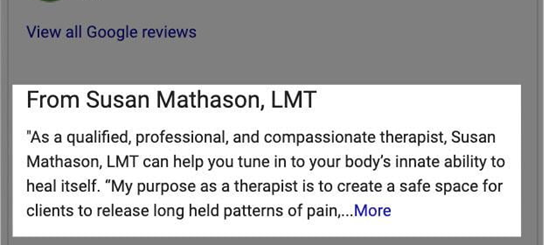 Use your description to connect with your current and prospective customers fast. Before it goes live, it must be approved by Google.
Below you can find some tips to optimize your business descriptions: 
Include your key information in the first 250 characters 

Use content from your "About Us" page or mission statement. 

Write about what sets you apart from your competitors.

Weave in your best keywords, so the algorithm guides users to you.

Abstain from talking about promotions or sales. 

Don't include any links. 
Check Google's content guidelines if you have any additional questions.
4. Incorporate high-quality images for visual insight
Consumers and users have a considerable knack for visual attributes. Images can lead to higher conversion rates and even revenue. According to Google, 42% of customers are more likely to request driving directions to a business if they have photos in their profile.
The following are different images you should include in your Google My Business profile: 
A profile picture.

A logo image. 

Cover photos 

Additional photos and videos.

360º Google's Street View app pictures.  
Include your best high-quality pictures to give users an accurate depiction of your business, services, and products. Commit to posting a picture or two every week. You can also geo-tag your pictures to tell Google your prominence in your area. Some of the images format requirements are as follows:
Images should be JPG or PNG.

Size: Between 5KB and 10MB.

Resolution: The minimum required is 720px tall by 720px wide.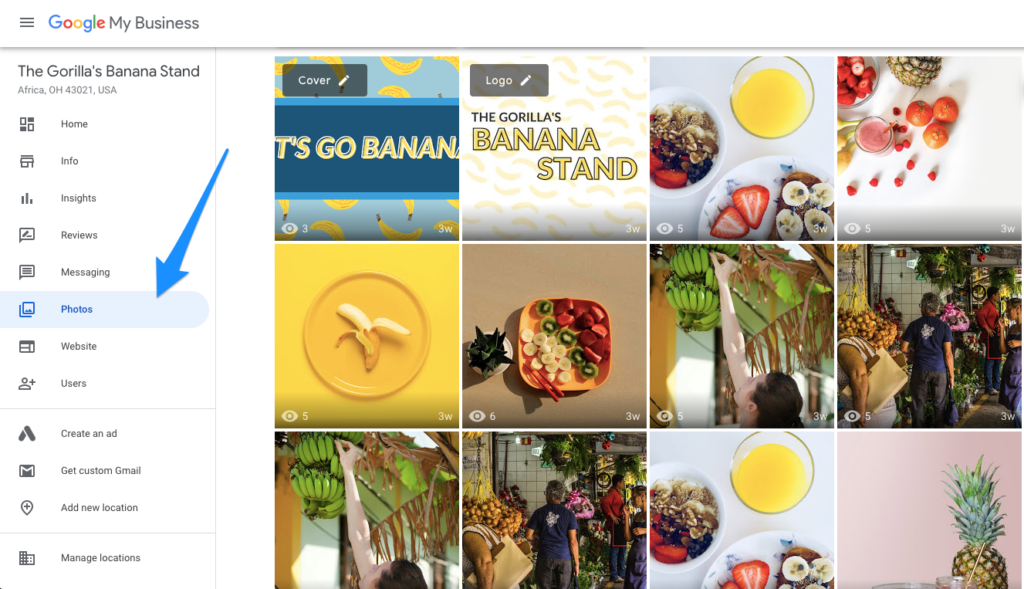 5. Motivate customers to leave reviews and actively engage
If you were traveling to another country and wanted recommendations about a place to eat, who would you ask? Maybe a friend or family member that knew the place. But now, with Google, why not ask a stranger?
Google reviews serve as valuable and sincere feedback and can be the turning point to turn a curious wanderer into a regular customer. 
But it doesn't just stop there- you'll also need to engage with every review they leave to leave a great impression on your GMB profile. According to recent studies, 89% of consumers read business review responses, which can lead to better overall ratings. Motivating customers to talk about their experiences in your business is vital. Below you'll find some tips on how to increase reviews on your GMB profile:
Send a private message to your customers and ask them to rate the quality of their experience. Depending on their satisfaction score, direct negative feedback to a private conversation and drive positive feedback to Google.

If a customer doesn't respond to your initial review request, proceed to send them a follow-up email.

Use CRM systems to automate weekly review requests to customers.

Don't avoid answering negative reviews, and don't take them personally either. This can be a considerable trust-builder and improve or decrease your reputation. 
6. Post regularly to keep your profile updated
GMB isn't exactly a social media platform, but whenever businesses use it, they prove that they are actively engaged and care to keep their information up to date. 
To do this, generate a regular posting schedule that you can easily commit to. You can include 'Updates' or 'Overview' tabs of the Business Profile on mobiles, and the 'From the Owner' section of the Business Profile. Read Google's best recommendations on posting updates.
What next?
GMB Is just one of the many channels your business can use when it comes to connecting with prospective clients. Investing in a marketing strategy, platform, or team to boost your digital presence online is always a great idea.
If you have been in business for three months or more and that generate at least $7,500 in monthly revenue, then you could easily fit into one of our funding programs. Check if you pre-qualify in minutes.