Holiday marketing strategies that will boost your holiday sales
---
Tue | October 2022
---
The holidays can be a daunting time for many, especially considering that companies like Delloitte expect sales to increase by 14% this year, with 20% of yearly revenue occurring during the same period. But how can you ensure maximum sales for your business this holiday season?
This article will cover when to begin holiday marketing, how to increase dwell time by catching consumers' eyes with the best seasonal marketing, and how to market special holiday events while ensuring you've maximized your sales potential. Follow these seven holiday marketing strategies and maximize the holiday season's profit potential.
1. Identify audience channels
Studies show that the Click-Through Rate (CTR), or the number of clicks your ad receives divided by the number of times your ad is displayed, increased by 48% during holiday weeks, meaning consumers can be far more open to marketing and advertisements. But what is the best form of marketing for a holiday? Do your customers interact on mobile devices or use a desktop browser to order products? If you're unsure which digital platforms your site visitors use most, find out what devices your customers use through the "audience" tab in Google analytics. Once you've reviewed your audience's preferred channels, you'll be able to try out some of the following marketing campaigns:
Best all-rounder: Google or Facebook ads are spaces taken out of millions of websites within the Google Display Network (GDN) or on pages across Facebook's website. They're easily manageable, can be targeted toward specific consumers and platforms, and provide a plethora of information to analyze after each campaign.

Best for desktop: Keep your most valued customers apprised of your most significant holiday events and deals with periodic email campaigns. These can be brief but should ultimately be eye-catching and have valuable information for readers, with CTAs to your website or social media.

Best for mobile: Whether making SEO-optimized posts on Instagram, YouTube, or Facebook, 64% of consumers reported that holiday-related content, such as Facebook videos, impacted their purchasing decisions.
2. Try traditional advertising channels
As we enter an increasingly digital environment, we often overlook advertising through conventional marketing channels, even if it can be essential for local businesses with a proven real-world presence. Suppose more of your customers tend to make purchases in person rather than through online sales. In that case, an offline radio advertisement would help keep your business ahead of competitors, pushing your products to the top of consumers' minds and into your storefronts.
Other common forms of traditional advertising include the following:
Television

Radio

Signage (i.e., billboards, roadside postings, or sign spinners)

Newspaper advertisements
3. Optimize web pages for conversions
Trees, candles, and cookies aren't the only things that could use a little holiday makeover; 93% of consumers say colors help influence their purchasing decisions. You can draw consumers' eyes and keep their attention by sprucing up your website with a few seasonally themed additions:
Add banners to market holiday events and special product offers.

Introduce "offer callouts" with exceptional offerings (more in tip four) to get users excited about this season's products.

Adding holiday-themed greetings can also be an excellent way to draw attention to your newly festive CTAs and deals.
4. Run special offers
Everyone loves a win-win situation, especially when buying presents for loved ones while saving money. Below are a few ways to create unique offerings to apprise valued customers of new deals and draw them to your sales page.
Discounts for referrals: Word of mouth is still more effective than paid ads in many sectors, so giving your customers dollar incentives to recommend your brand can be a hassle-free marketing technique.
Discount vouchers: You can offer these in limited quantities, i.e., coupon codes that only appear for every five customers.
5. Prepare for increased site traffic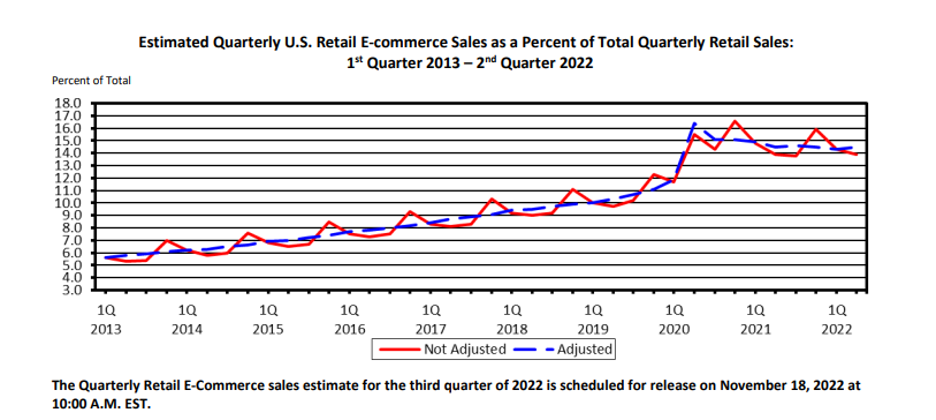 The Census Bureau's Web site shows an overall increase in e-commerce sales during each quarter since 2013.
You risk losing 7% of potential conversions for one second of loading time that visitors experience, so preparing your website for higher traffic volumes is well worth the cost.
Obtaining backup servers can prevent downtime and crashes or even offload traffic to other hardware during unexpected traffic surges.

When should you start marketing, and how can timing help site traffic? One way to offload massive traffic boosts, grow sales, and diversify marketing opportunities is to start the season earlier, which will disperse back-end activities like purchases and sign-ups.

Pushing post-holiday campaigns can also slow down traffic decreases and take care of leftover stock, with a surprising 92% of consumers stating a readiness to shop once the gift-giving season is over, according to Ware2Go.
"[Of customers, a] whopping 92% say they will be shopping after the holidays this year, up from the usual 72%."
6. Gift advice blogs
Searchable, SEO-driven, helpful blog content is a tried-and-true method of driving traffic to your site. According to Hubspot experts, regular blog posting schedules can increase site traffic by up to 55%. You can post seasonal "gift guides" that list the best gifts to get consumers' loved ones for the holidays. For example:
7 Gift ideas for grandparents from grandchildren this New Years.

Best cell phone deals for holiday shopping.

Christmas gift pack ideas for dad's Christmas present.

Top 15 jewelry ideas to get your girlfriend Christmas 2022.
If you're struggling to develop topic ideas, try Google's "trend" resource, which shows rising queries based on any term you enter (this tool helped to make the above list). Click here to learn how to use Google trends to increase blog traffic, track the most recent fads and seasonal trends, and develop new product ideas.
7. Secure working capital
If you read this article, it is because you are a business owner looking to boost your sales this year-end. Or maybe you're generating steady sales but don't have the capital to hire more staff, invest in better technology, or implement marketing strategies that often require trained staff. With One Park Financial, it's never too late to raise the capital your business needs to increase sales, facilitate continued growth, and create an impressive marketing campaign! 
You can check if you prequalify to secure working capital, a type of business funding that covers day-to-day operational expenses and frees up cash for this season's challenges. You'll only need to show that your business has made an average gross revenue of over $7,500 during the last three months. One of our many talented funding experts will reach out and work with you to find the ideal financing option for your company. 
Disclaimer: The content of this post has been prepared for informational purposes only. It is not intended to provide and should not be relied on for tax, legal, or accounting advice. Consult with your tax, legal, and accounting advisor before engaging in any transaction.