Perhaps more than any other, the restaurant industry has been hit hard by the COVID-19 pandemic. In 2020 alone, restaurant sales fell 24% or $205 billion. Additionally, 10% of all restaurants in the United States have closed their doors permanently.
However, despite the shrinkage in 2020, the restaurant industry is growing to its previous size. Restaurant owners are looking to expand in other ways; for example, technology and online ordering have grown in popularity in recent years, partly due to the pandemic.
Also, with declining unemployment and rising consumer confidence, restaurants are wondering what strategies they can use to attract customers, increase sales and expand their business. If you want to stand out your business from the competition and increase your sales, keep reading to find out what marketing strategies can help you improve your restaurant's sales.
Ways to increase your restaurant sales
In the following sections, we are going to develop marketing strategies to boost sales in a restaurant. This includes marketing and brand promotion strategies to attract and retain new customers.
1. Keep your website relevant
Let customers see your menu through search, find your storefront more easily with Google Maps, and ensure your high ratings won't go unnoticed by connecting your website to your Google My Business search page. Once claimed, continue SEO best practices by keeping your menu items, hours, events, blogs, and unique offerings updated. You can read our guide on how to use your Google my Business to get customers and learn how to optimize your Google My Business.
2. Define marketing campaigns to raise brand awareness
Don't let all those website updates slip through customers' digital fingertips; let them know what's happening with marketing campaigns. You can develop the following marketing campaigns:
Use social media posts to inform the public about live shows or special events you will host.

Create email campaigns to distribute newsletters, update holiday hours, or promote new blog posts.

Reward your customers' loyalty by notifying them about exclusive offers for them.

Post ads in your local newspaper, flyers on corner bulletins, or hand out menu brochures at local events to take advantage of classic advertising methods that appeal to older audiences.
You can read more in our piece about the components of a strategic marketing plan and the steps to create the perfect strategy for your small business. With the hustle and bustle of the restaurant life, owners are hard-pressed to free up funds for marketing campaigns. So how can you grow your business if people don't know about your outstanding services? Don't look under your couch; you'll need more than pennies to start a Facebook ad!
3. Word-of-mouth marketing
Although it can be the most challenging tactic to generate since it's not purchasable or traceable, word of mouth is undoubtedly the most effective form of marketing. By creating "bring a friend" rewards for returning customers who bring in new faces, you'll effectively "purchase" some traceable word-of-mouth points. If you're concerned that people might take advantage of this by bringing the same person multiple times, you can ask for the new customer to sign up and verify with their phone or email to prevent duplicate discounts.
4. Loyalty programs
Studies show that customers are 85% more likely to use brands that offer loyalty reward programs. These days, consumers are more likely to visit your website, where getting them to sign up will enable you to directly send deals that can be tracked and quickly updated from the comfort of your mobile device.
For a more traditional route, offer punch cards or coupons for a certain number of visits, where the identifying information can be as simple as a piece of paper.
5. Combo deals, special offers, and new customer deals
Now that you can contact customers directly through social media or email, the question is, what special deals should you offer? Below are some ideas that will delight consumers, increase sales, and expand your restaurant business:
Happy hour: Boost sales, create rapport with newer crowds and increase your social media by reducing drink prices and provide deals on smaller or combined dishes during happy hour.

Coupons: Offering discounts or free items with purchases is a way to stand out. Try sending these deals through various channels, especially to loyalty rewards members, who will account for more than 20% of your overall revenue.

Combo deals: Offering discounts on less popular dishes by combining them with higher-selling items can diversify your menu, reduce excess stock, and increase customer satisfaction.

New customer deals: A great way to track word-of-mouth advertisement is through "new customer" deals.
6. Be the venue you want to see in the world
Offer your space as a venue for various local groups. From acting troupes to large private parties, participating with your community will give your business a positive social outlook while potentially introducing new customers.
7. Host events
After experimenting with different events, send surveys to customers and review data to determine if satisfaction and sales increased during and or after hosting. Some popular options include:
Stand-up or improv night

Live shows by local bands (with the potential of a long-term contract)

Cooking classes (one of your chefs can teach!)

Acting night

Magicians
The odds are that having a magician, for example, won't scare away customers, but it might appeal more to families. It's crucial to experiment with different tactics to determine which events most appeal to your target audience, so be sure to take surveys afterward.
8. High-quality service brings high-quality profits
You'll see profits soar with exceptional customer service, high-quality food, and an efficiently run business. You can quickly increase earnings by turning your restaurant into a well-oiled machine.
Make sure your staff is well-trained in both customer service and upselling (the process of encouraging customers to upgrade their purchase). Upselling takes significant practice to get right, so properly train employees before implementing this marketing technique for the best results.
Having well-trained staff can be incredible for productivity since they will more quickly and efficiently bus tables, complete orders, and create sales. If you want your best staff members to stick around, consider offering employee benefits like healthcare to compete against other jobs in a predominantly employed market.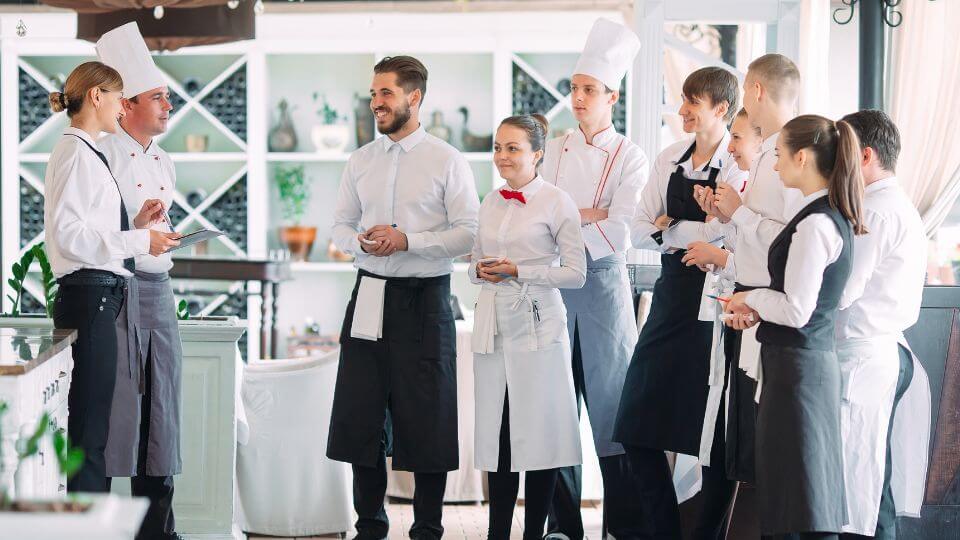 9. Upgrade your tech
Offering public WIFI can increase sales during the slower hours as stay-at-home workers grow hungry and migrate to the comfortable atmosphere of your restaurant.
Additionally, it might be time to upgrade your POS, or point-of-sale system, if it can't track consumer trends. An information-enabled system helps determine your best and worst-selling dishes and for which holidays you should open or close, making successful or ineffective strategies easier to spot.
Doordash alone increased its revenue to $4.88 billion last year, so there's no doubt the food delivery market is expanding. A new POS would also enable you to partner with apps like Doordash and UberEATS, enabling increased sales and more vigorous customer outreach without the tedium of creating a new company branch.
10. Funding to facilitate upgrades
Expanding when you begin marketing, delivering, renovating, upgrading tech and equipment, and additional employee training is easy. But how can you accomplish these things before you have the capital to expand?
One Park Financial helps small and medium businesses free up the funds needed to make these changes by providing fast working capital that covers day-to-day expenses and frees up money to begin marketing campaigns. Just fill out this quick form; you'll only need to show that your company made a monthly revenue of $7,500 for the last three months, and you'll find out shortly if you prequalify for funding through one of our highly trained agents.
We look forward to hearing from you!
Disclaimer: The content of this post has been prepared for informational purposes only. It is not intended to provide and should not be relied on for tax, legal, or accounting advice. Consult with your tax, legal, and accounting advisor before engaging in any transaction.