Types of technology tools for small businesses
---
Tue | June 2022
---
Business owners must go through infinite to-do lists as they venture into entrepreneurship. Keeping track of your finances, connecting with new prospective clients, invoice management, and so on. But you don't have to do it by yourself, the right business technology tools can give you a hand!
We've compiled a complete list of the different types of tools and top picks for your business so you can get some insight into the different options in the market. Identify the one that best suits your needs, invest smart, and speed up your business growth.
Benefits of investing in the right technological tools
These are the three key benefits of investing in the right technology for your business:
You'll spend less time on tedious manual or repetitive tasks and more on strategic thinking to grow your business.

You'll save money by quickly detecting significant losses and new revenue opportunities.

You'll be in touch with a more extensive client base. Technology tools will help your business expand online and beyond your physical location.
Let's get a quick overview of different business tech tools aimed at small and mid-sized businesses. We know there's an overwhelming range of options in the market, that's why we've selected our best picks under each category. Check out the ones that best meet your objectives right now and get moving! Success is right around the corner.
What are the best technologies for small businesses?
1. Remote team collaboration tools
Consider investing in collaboration and project management tools if you have a small or large team in different offices, cities, or even countries. Team collaboration tools will allow your team to participate in projects in real-time, strengthen connections, and help you keep track of tasks and processes. Some remote team collaboration tools that we recommend looking for are the following:
Notion: A file management tool to share feedback and comments. 

JIRA: Ideal for tracking IT-related issues and project management.  

Asana: Popular project management tool for deadlines and assigning tasks. 

Slack: The "professional Whatsapp." Let's you share files and create threads. 

Microsoft Teams: A wholesome tool for videoconferences, emails, file sharing, and agenda management. 
These great tools can help you create and maintain a tremendous remote culture. But technology itself won't do; we need the human touch! If you want more tips on creating a thriving remote company culture, we recommend reading: How to build a remote team.
2. Social media automation tools
When used correctly, social media can open a wide array of opportunities to generate new leads, boost your brand reputation, and build a flourishing community of followers interested in your business. Take advantage of social media platforms to learn and connect with current and prospective customers. Some social media and automation tools that we recommend are the following:
Hootsuite: Lets you manage multiple social media platforms and accounts.

Buffer: A cheap and easy-to-use scheduling option for small businesses.

Meta Business Suite: For paid campaigns, tracking KPIs, & scheduling posts.

Buzzsumo: For industry trends and influencers, and monitoring the competition 

Sprout Social: Automates messages and content-bot builder included and all! 
These tools will help you plan posts, gather metrics, and collect helpful information, but they're nothing without a successful marketing campaign.
3. Time tracking tools and applications
Time tracking tools and calendars can help you organize your schedule and your employees'. Most of them have features that allow you to share calendars, organize meetings, manage appointments, and track shifts and working hours. Some time tracking tools and apps that you should check are the following:
Calendly: Simplifies scheduling meetings with notifications and links.

Calendar: Time tracking software for work hours and projects. Unlimited users.

Doodle: A scheduling app for external and internal meetings 

Bookafy: Easily lets customers schedule appointments with you. 

Google Calendar: A classic. Connects with Google Meets for online meetings.
Remember, the tool alone won't get the job done! Once you invest in these tools, establish productive habits and a routine so you and your team can make good use of them.
4. CRM systems to keep customer data safe
Customer Relationship Management systems can help you manage your relationships and interactions with current and potential customers. Through these systems, your team will be able to store vital and valuable contact information, track interactions, record sales issues, and identify sales opportunities. Below some. of our top CRM softwares picks:
HubSpot: A popular and cost-effective option for smaller businesses. 

Salesforce: Great customization features. Stores large bulks of data.  

Pipedrive: An easy-to-use with lots of automation features.

Freshsales: A lightweight, fast, and simple solution for small businesses.

Microsoft Dynamics 365 Sales: Has great features for retail and e-commerce.
CRM software is an ideal tool to keep organized as your client base grows. If you're still not sure about the right software for your business, visit our Benefits & Types of CRM software article.
5. Recruiting software and talent search tools
If you find yourself at a place of growth and expansion and need to start delegating tasks, consider investing in recruitment and talent acquisition software to find top talent. Before you do this, we recommend you establish and define the role of your outsourcing strategy. These are our top picks:
Zoho Recruit: Customization options to manage multiple job openings at once.

Freshteam: Free & functional. For businesses with less than 50 employees.

Monster: For factories or large businesses looking for local personnel.

Recruitee: Access to 1,250+ job boards for fast-growing businesses.  

Indeed: For outsourcing tasks or filling occasional slots in the short-term.  
All these tools can help you find the right person for the job. But once you do, you'll need a successful human resource strategy to keep them on your side of the court in the long term. Our piece on How to Attract, Retain, and Manage High Performing Employees can give you a hand with that!
6. E-commerce tools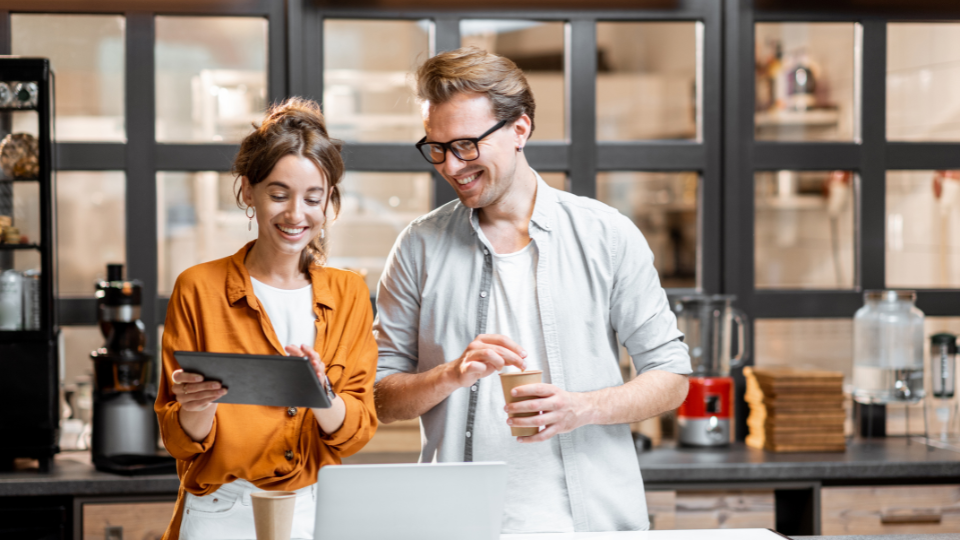 Almost 80% of American consumers shop online. So, if you're into commerce or retail, it's time to move your products or services to the digital world. Don't worry- it's not so complicated. There are many intuitive platforms to choose from that will help you take payments, and even unify shipping services for you. These are our top picks:
Shopify: A popular option for beginners. Easy to set up and use.

Squareup: Combines both online and offline orders if you sell in person.

WooCommerce: Lets you add a shopping cart to your WordPress site. 

Shopwired: Best for expanding your sales into the global market.

BigCommerce: For large-volume sellers, multinationals, or franchises. 
Once you have your e-commerce set in place, it's time to organize your inventory. Have you given the Just-in-Time (JIT) inventory management any thought?
7. Customer review management software
The customer experience is king. So how can you take care of it even more? By using customer review management tools. These tools include automation features, monitor brand reputation, and can help you detect issues with customers fast. These are our top picks:
Trustpilot Business: Popular online reputation site and management system.

Review Inc: Integrates different review deliveries in one place.

Podium: For sending reviews with text messages and real-time interaction.

Google My Business: The most popular and public review platform.

Get More Reviews: Has a bad review blocker and automated social posting. 
As you learn to manage reviews, you'll attract more prospective clients that want to know about the quality of your services and products.
8. Financial management tools
How will your business thrive if you run out of cash flow? The right financial management software can help you easily keep track of your profits, losses, and revenue. These are our top picks:
Quickbooks: A popular option for invoices, expenses, payroll, and reporting. 

Zoho Finance Plus: For back-office operations like inventory and taxes.

Kissflow Finance: Great for creating workflows for finance processes.

Sage Intacct: CRM, POS, and payroll integration for smaller businesses.

Xero: Lightweight and simple-to-use software for essential finance management.
These finance automation systems can save you time on manual tracking, simplify complex processes, and keep you organized throughout the high and low business cycles. Make sure to pick the option that feels best for you and your business.
9. Cybersecurity tools
Your business operations depend on technology. In fact, none of these tools could function or subsist if your network or device is attacked by ransomware or Phishing. The best way to avoid losing valuable data or keep operations flowing is by investing in the right cybersecurity software. These are our top picks:
Malwarebytes for Teams: Protects up to 20 devices. 

HeimdalThreat Prevention: Great for prevention and threat hunting.

WebTitan: Web content control, ideal for an active online presence.

Keeper: Strong password security to prevent data breaching. 

Private Internet Access: A VPN that lets you access servers offshore. 
You can complement your new cybersecurity software by implementing a set of IT procedures and rules for all your employees.
10. Mobile payment systems
Customers love using their phones- for everything, and especially for shopping. In fact, by 2024, mobile wallets will make one-third of all POS transactions worldwide. So, if you have a physical or digital store (and hey- why not both), consider incorporating mobile payment solutions? These are our top picks:
Stripe: For smaller businesses. Processes 100+ currencies free of charge.

Amazon Payments: Includes plugins with tools like Shopify or BigCommerce.

Google Pay: A popular digital wallet for all types of businesses.

Paypal Business: A classic and easy-to-use payment option for beginners.

Authorize.net: A costly choice for larger operations. Includes fraud protection.
Mobile transactions are just one of the many fintech trends your business can take advantage of. Catch the latest trends on fintech: Essential Fintech Apps for Small Business
Invest in the right technology for your business
We're entrepreneurs that have integrated both finance and technology to help small business owners like you- nationwide. So, trust us, investing and integrating the right tools in your day-to-day operations can make a real difference. 
Take the first step by thinking about your current challenges and future objectives. What tool can help you optimize your existing processes to get there? You do the brainwork; we'll help you access the funding you need to make it happen. Check if you pre-qualify for our working capital programs.
Disclaimer: The content of this post has been prepared for informational purposes only. It is not intended to provide and should not be relied on for tax, legal, or accounting advice. Consult with your tax, legal, and accounting advisor before engaging in any transaction.