Minority-owned businesses have a special knack for entrepreneurship and can make a significant difference in generating more revenue and employment. They currently employ 8.7 million workers, outpacing the average growth rate of paid employees of non-minority businesses by 27%. 
However, their growth is still accompanied by many challenges, such as difficulty getting access to working capital to start or expand their new businesses. If you're a minority-owned business, the right certification can aid you through your growth and hardship and give you access to funds, networking opportunities, and educational resources.
How do I qualify as a minority-owned business?
Before you move forward with the steps of how to start your own minority-owned business, make sure you meet the qualification requirements. The first requisite Minority-Owned Business certification is that your business must be 51% owned and managed by a US citizen that belongs to the following groups:
Indian

Asian-Pacific or Asian-Indian

Black

Hispanic

Native American
What else do you need to get minority-owned business certification? Besides being recognized as an ethnic minority, businesses must meet additional official requirements depending on the entity or minority certification. It's also a great idea to prove your business has the potential to scale and generate revenue in the long term.
Four steps to start a minority-owned business 
Let this step-by-step guide help you execute a plan of action to generate sustainable growth for your own minority-owned business. It includes specific certification and funding opportunities for specific minority-owned groups you can apply to once your business is up and running. 
1. Write a business plan to show your long-term potential
When you consolidate a business plan to target your business vision and objectives, you reassure yourself and others that you're ready for long-term success. A successful business plan can also help you attract investors, partners, and grants aimed at minority-owned businesses. 
What are the essential elements of a business plan? There's no standard fits-all template. It all depends on your type of business, the purpose of your project, and how much detail you're willing to provide. You can opt for a traditional business plan format or a streamlined "startup" format. But the following are some of the sections you could include:
An executive summary: A short overview of your business vision and mission. Leave this for last to highlight your best points. 

Overview of your company: Describe what makes your business unique. Your background, list your executive team, and include your location. 

Market Analysis: Research your industry, growth potential, and competitors. 

Business management: Key information about the members of the business and its legal structure.

Services or products: Describe what you offer and its value. 

Financial plan and projections: A short or long-term revenue forecast.

Appendix: Here, you can attach business permits, supplier contracts, licenses, and other relevant documents.
Once you start your business operations, don't forget to revisit your initial draft every quarter to check up on your business growth plan or make the needed adjustments.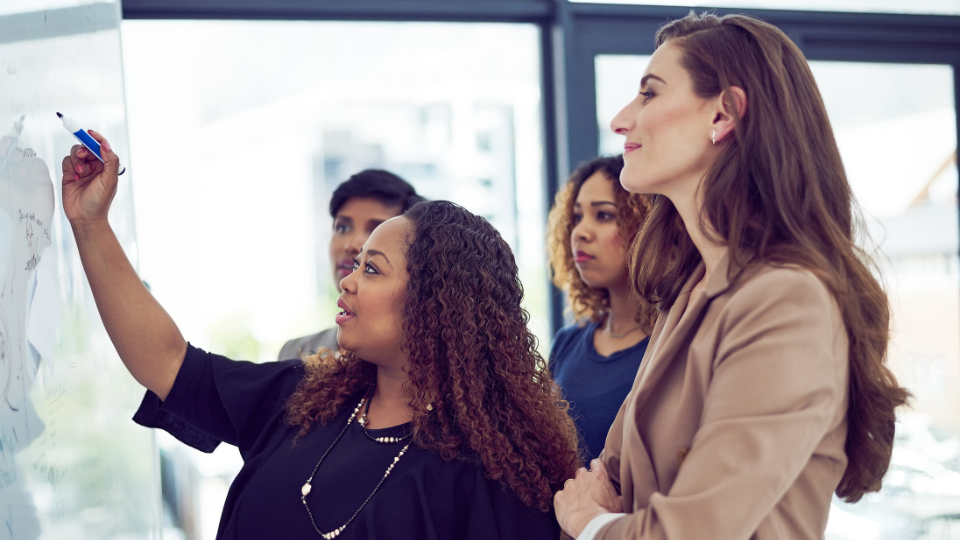 2. Register and incorporate your business 
You have an excellent entrepreneurship goal in mind and a business plan. Now, it's time to understand the different liabilities involved in registering or incorporating your business. When you register, you obtain a business license to operate in your area legally. When you incorporate your business, you separate yourself from the legal liabilities of your business entity. 
These are the different business entity types you can choose from:
Sole Proprietorship

Partnership

Limited Liability Corporation (LLC)

C corporation 

S Corporation (short for a small business corporation)

Nonprofit Corporations

Cooperatives
Be mindful when you choose your business entity. You can get more information about these structures' different legal, tax, and financial implications in our article on types of business ownerships and how to choose. 
3. Get officially certified as a minority-owned business
Once you draft down your vision for long-term success and find the adequate entity for your business, it's time to jump into the step that will differentiate you as a minority-owned business. Certification! 
Once approved, you'll access incentives, networking, and funding opportunities. The following are the minority-owned businesses' most common federal and state governmental certifications:
National Minority Supplier Development Council (NMSDC) Certification: This certification gives you exclusive contract and networking opportunities. You'll need to meet the following NMSDC requirements first.  Once you gather the needed documentation you can apply at your local affiliate council.     

8(a) Economically Disadvantaged Small Business Program: SBA's 8(a) program: Is specifically designed to leverage federal financial aid opportunities for minority-owned businesses by setting aside a portion of contracts for them. To start, you'll need to create a profile on their System for Award Management.

Department of Transportation (DOT) Disadvantaged Business Certification Program: This certification gives you priority when contracting in construction projects and within their respective industries. The main requirement to qualify is getting a state DBE certification. Make sure you meet DOT Disadvantaged Business qualifications before you apply. 
To get more details about private minority-owned benefits and discover new opportunities for business owners, we recommend reading Benefits to Becoming Certified as a Minority-Owned Business.
4. Connect with financing opportunities for minority-owned businesses
Minority-owned businesses often have one main disadvantage when it comes to scaling: access to traditional funds. According to recent studies by McKinsey & Company, on average big banks approve 60 of loans by white small-business owners, 50% by Latino small-business owners, and 29% by black small business owners. 
Thankfully, there are many other venues to empower minority-owned businesses looking for funding. Some of them are the following:
SBA Community Advantage Loans: This federal program is part of the 7(a) SBA type loans but is specifically aimed at meeting "the credit, management and technical assistance needs of small businesses in underserved markets." It can connect you with up to $250,000 in federal funding—more information at the SBA official website.

Business Center for New Americans: An entity that advocates for immigrant and refugee-owned businesses. They provide micro loans of $500 to $50,000 with six to three years repayment terms.  

The Unshackled Ventures program: A venture capital opportunity aimed at first-generation immigrant entrepreneurs with a potential for high returns. 
In the end, you'll have to select which sort of financing is ideal for your minority-owned company. However, after you've applied for and obtained the funding you require, you'll be well on your way to managing your company successfully.
Government certifications for specific minority groups
At this point, we've gone through the four steps to starting a minority-owned business. Also, we discussed above some minority-owned business certification options. However, you might want to consider other resources and certifications for groups like women, veterans, LGBTQ entrepreneurs, and other specific minorities. If you identify with one of these, take a look at the resource below and connect yourself with some growth opportunities.
Certifications for minority women-owned businesses:
SBA's Women-Owned Small Business program: This SBA program aims to award at least 5% of the annual contracting budget to women business owners. 

Certification from the National Women's Business Council: If this council certifies you as a woman-owned small business owner (WOSB) or economically disadvantaged woman-owned small business owner (EDWOSB), you'll be able to access mentoring, funding, and network opportunities. 

The Dream Builder program: An initiative that provides women entrepreneurs with an educational entrepreneurship program to improve business management. 
Certifications for other specific minorities you can also adhere to:
LGBTQ+ small business certification: The National Gay and Lesbian Chamber of Commerce gives business owners that belong to the LGBTQ+ community scholarships, special discounts from allied partners, and mentoring opportunities.

Veteran-owned business certification: If your business is 52% owned by one or more veterans, you might be able to qualify for two different federal programs. These are the Vets First Verification Program or the National Veteran-Owned Business Association's Certified Veteran's Business Enterprise (VBE) program. Both provide educational opportunities and grants. 

HUBZone business certification: If 30% of your business employees live in a historically underutilized area or if your business is 51% owned by a Community Development Corporation, an agricultural cooperative, a Native Hawaiian organization, or an Indian tribe, you'll have exclusivity to federal contract dollars every year. Check if you qualify.
Fast working capital and guidance for minority-owned businesses
Federal programs provide excellent funding opportunities for minority-owned businesses, but sometimes meeting the strict qualification requirements can be time-consuming. 
We have more than a decade of experience giving personalized funding access to minority-owned businesses and don't ask for official certification. If you're looking for a speedy and efficient way to get funding, we can help. You can easily pre-qualify for one of our working capital programs through our quick and easy online form. Our funding specialists will be more than happy to walk you through the entire process and keep you informed every step of the way.
Disclaimer: The content of this article is based on the author's opinions and recommendations alone. This material has been prepared for informational purposes only. It is not intended to provide and should not be relied on for tax, legal, or accounting advice. We suggest consulting with your tax, legal, and accounting advisor before engaging in any transaction.