How to build a remote team culture by following these tips
---
Tue | May 2022
---
Working with a distributed team can be tricky- it takes a new kind of leadership, values, and consistency. But it's vital.
Without remote company culture, your employees lose sight of their purpose inside the company, feel like they're being taken for granted, and most importantly, stop feeling part of the team. In fact, 52% feel less connected to their coworkers after shifting to remote work. 
Keep reading if you want to keep a cohesive, happy, productive, and well-aligned remote team. We've got some mind-opening tips you can start applying today. 
The impact of remote working
These past two years have radically changed the way we work. What have been the consequences of working remotely on employees' well-being and mental health? How have companies managed to adapt their leadership and management from a distance? 
According to Buffer's 2022 State Of Remote Work survey, employees define how they truly feel about remote work:
61% of employees describe their experience with remote work as very positive.

45% think that career growth is more difficult for remote workers to achieve.

Their main benefits are flexibility in time management, choosing a work location, and more time because they don't commute. 

Their main struggles are not being able to unplug, loneliness, and difficulty focusing. 

61% say that they're in more meetings now than before. 
While there are some challenges with the perception around career growth and the need for more meetings, almost two-thirds of those employees surveyed actually like working remotely.
What is remote work culture?
Before we dig into remote work culture, let's talk about organizational culture. According to APA's Dictionary, organizational culture it is a distinctive pattern of thought and behavior shared by members of the same organization and reflected in their language, values, attitudes, beliefs, and customs.
Building on this term, every company has its distinctive personality, just like an individual. That personality has a story, setting, and unique characters- in other words, its narrative. 
So, what happens when your organizational culture goes remote? Does it dissolve or disappear? No- it's just pushed to adapt to a new setting, a virtual one. But, without shared company culture, there is no success, especially in the long term.
Let's get a better understanding of the steps you can start taking to work on your remote company culture overall: 
Five ways to build a strong remote team culture:
1. Keep meaningful conversations between coworkers
Remote work takes away the coffee breaks, the in-person meetings, and sometimes the after-office happy hours. But a strong company culture thrives on employee connections that go beyond work. 
Employees must find a space to share their inspirations, curiosities, passions, and day-to-day activities. So, even if it might not seem productive at first, this is the best way to retain talent.
Set aside time every week for non-work-related conversations among coworkers. You can keep meaningful conversations with your team workers by doing the following:
Open up a Slack or chat channel where employees can share news, fun facts, or just bond.

Organize virtual happy hours or coffee breaks. You can send exceptional coffee or goodies to their homes for this occasion.

Monthly book or movie night. One team member can recommend a book or movie per month and set aside to talk about it in casual virtual meetings.  

Schedule at least one monthly activity out of work if possible. This could be a happy hour or an outdoor hike. 

Make some time to ask your team how their week is going.
A robust internal communication strategy should flow and originate organically. Encourage dialogue among workers and, most importantly- a sense of companionship among coworkers, so you don't have to force these conversations but that they spring up naturally among team members. 
2. Reinforce emotional intelligence skills on your leadership team 
What type of leadership style works best when keeping your remote team happy? The one that makes good use of emotional intelligence and connects with the person on the other side of the screen.
Here are some emotional skills that leaders can incorporate to generate higher levels of productivity and satisfaction in their remote teams: 
Empathy: Take the role of team member first and manager second. 

Communication: Make some time to listen, not just talk. Communication is a two-way street.

Transparency: Be clear and transparent. Include your team in your decision-making processes when needed.

Kindness: Avoid not cordial emails and keep communication positive. 

Self-awareness: Ask for employee feedback to see if what you're bringing to the table works.
3. Openly reward and value team members 
Many remote workers often feel like their work is part of a transaction. They turn in their work in Asana or Jira ticket and move on. There's no time for celebrating and, at times, not even feedback-just silence. Employees are looking for praise and recognition, positive feedback that aligns them with their company's mission. 
Make the time to recognize and show that they are valued openly. A small detail can go a long way in keeping your employees loyal and motivated to turn in their best work. But how do you reward and recognize remote employees? Here are some employee reward examples and ideas for remote teams:
Schedule bi-weekly or monthly 1-1's so they can get feedback on their work and performance metrics.

Send "congrats" messages to highlight specific accomplishments in your group chat, whether Slack or Microsoft Teams. 

Recognize "employees of the month" or work anniversaries publicly. Write something that will make them feel flattered about their work. You can even create a funny video where your coworkers talk about how great they are and send it to the team.

Send small details to their homes on special personal occasions like birthdays or weddings. Something as simple as a thank-you note, flowers, a care package, or a gift card. It shows you don't just care about them as an employee.
For more tips, read: How to attract, retain, and manage high-performing employees.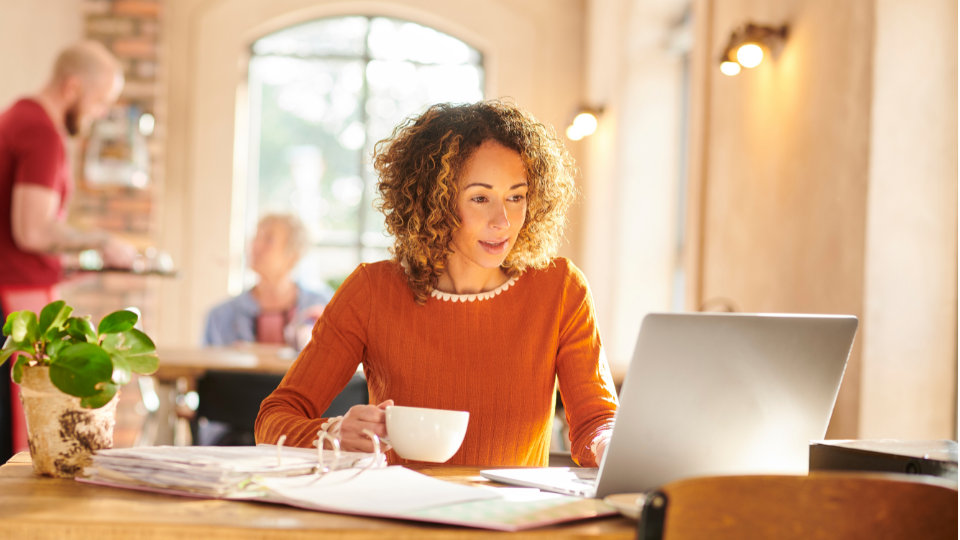 4. Take care of your employee's mental health
According to Aetna International's latest global employer-employee survey, 84% of employees agree that their mental health is more important than a year ago. Without mental health and well-being, there is no remote work culture. It is challenging to understand what your team's mental well-being and state is at any given moment.
As leaders, it is your job to figure it out. While every company is different, here are some basic ways to accomplish it:
Keep an eye out for burnout red flags among your employees, such as too many sick days, lower performance levels, poor mental health, lack of motivation, and negative relationships among coworkers. 

Offer employees online sessions with psychology experts or coaches. 

Make it a rule to disconnect after working hours. 

Give employees incentives such as free activity passes, workouts, or other stress-relieving attitudes. 

Set an example as a leader! Show how you are taking care of your mental and physical well-being and encourage your team to follow.
5. Ask for feedback and build back 
This advice could seem like common sense. But how will you find out if your remote team is happy if you don't take the time to ask? 
Send out anonymous quarterly surveys to see how well you portray your company values to your team members. Most importantly, to detect engagement and satisfaction levels. 
Take all feedback as a constructive means to work to build the best remote work setting possible. Trust us. Your employees will feel motivated to work together for a greater purpose if they know their voice counts. 
It's a new era for mental health at work...
If you are reading this article, you are taking steps toward your company, your employees, and yourself as a person. So take these lessons and start applying them.
Empathy goes a long way, and the phrase -Lead by Example- counts more than ever if you want to foster a healthy workplace. It's important to note that focusing on mental health in the workplace doesn't mean losing focus on performance.
Here at One Park, we value Results and our Client's Success. We pride ourselves on having a culture of meritocracy and performance. In our experience, healthy employees are happy employees, and happy employees are badass performers!
Disclaimer: The content of this post has been prepared for informational purposes only. It is not intended to provide and should not be relied on for tax, legal, or accounting advice. Consult with your tax, legal, and accounting advisor before engaging in any transaction.