Have you ever wondered how Google chooses a search query's top results? Google has very complex algorithms that make that decision. When used, these algorithms are sets of rules that solve a particular problem for their users. Google uses these rules to determine what websites or online content best fit as a result of any search.
So, how do you convince Google that your small business site and content are worthy? It takes experience and expertise, but it boils down to this: don't make Google work too hard.
If you're looking for a practical guide with easy-to-apply tips, this guide is for you. Read on and learn more about ways your business can appear in Google Search Results and Search Engine Optimization strategies- known as SEO best practices. Make your business stand out in this crowded sea of competitors!
Types of Google Search Results
Whenever a user looks for information on Google, they can be drawn to different search results: paid, organic, and a key one for small business owners- local search results. Let's get more insight into these three methods. 
1. Paid Search Results
Paid Search Results are the ads that appear on top and bottom of search results. These are typically featured with the word 'Ad.' Business owners can use Google Ads bidding processes to purchase ads and display them to users searching for specific keywords related to their services or products. 
For example, if you offer services to buy and sell cars, you can pay Google to display your business information every time a user searches for the keywords "sell your car." 
To start running Search ads and drive traffic to your website, sign up for a Google Ads account. You'll only be charged when someone clicks on your ad and gets redirected to your site.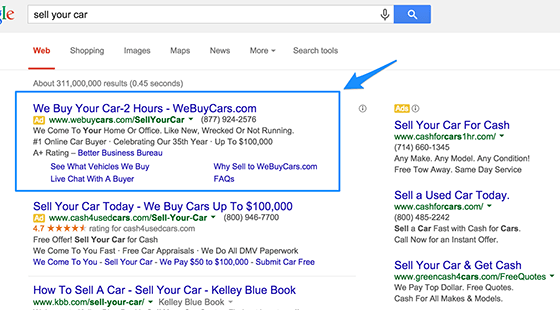 2. Local Search Results
Google's local search results are displayed within Google Maps after users search for a keyword that includes a location. 
For example, if someone searches Google for "Best Coffee in Miami," then Google will display coffee-related businesses depicting a map of Miami. In addition, local Search Results include reviews, relevant information about your business, photos, opening hours, and other helpful information.
To land within Google's local search results, you'll need to open a set up your Google My Business account. For more information, read: Google Local search to market your business.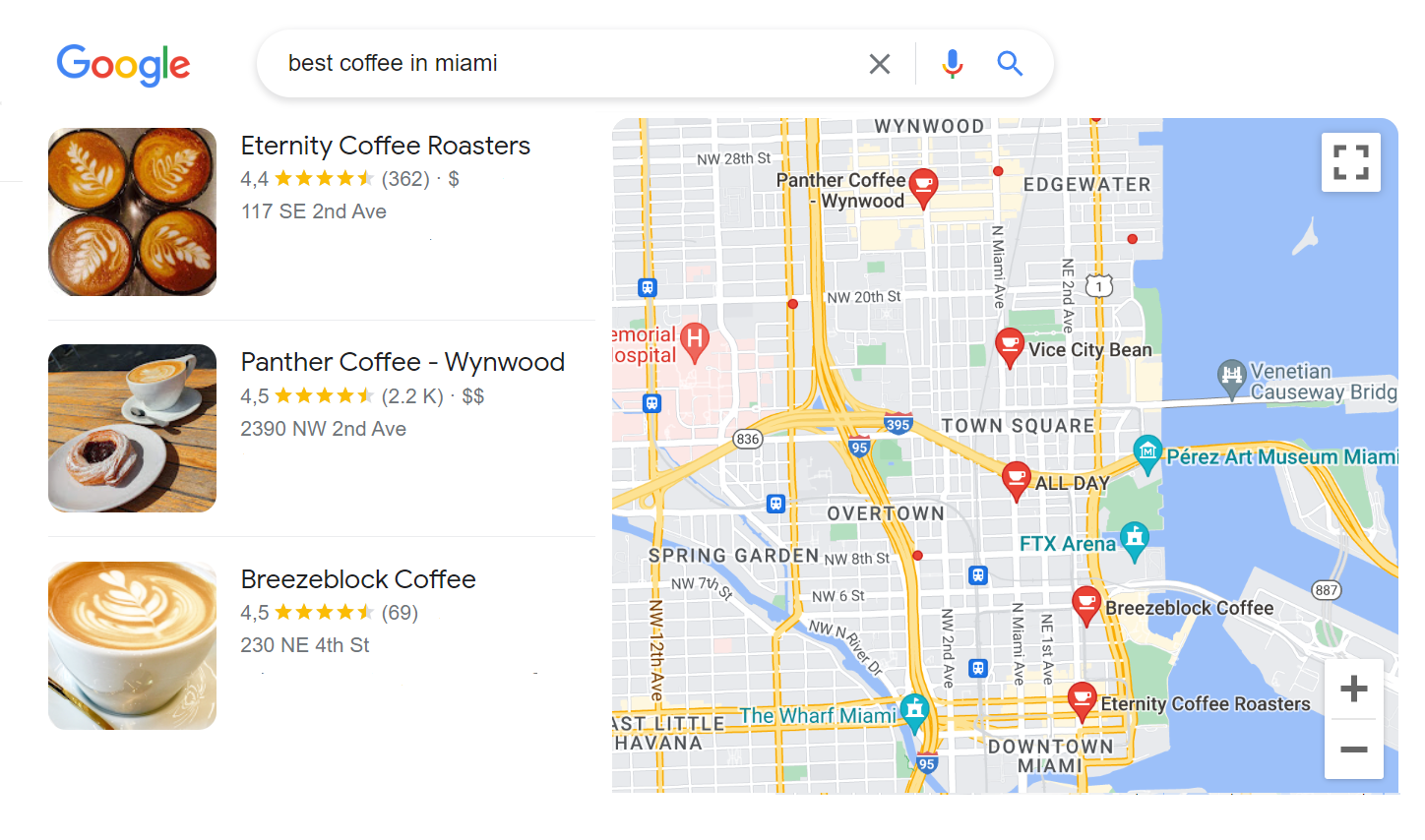 3. Organic Search Results
Google's organic search results refer to the list of web pages displayed in response to a user's search query without any paid advertisements. These results are determined by Google's algorithm, which analyzes various factors to provide the most relevant and authoritative pages related to the search terms.
These algorithms analyze SEO ranking factors like keyword usage, relevance, website design, and user experience (UX), among other factors.
Now, let's focus on ways you can improve your organic search results for your website.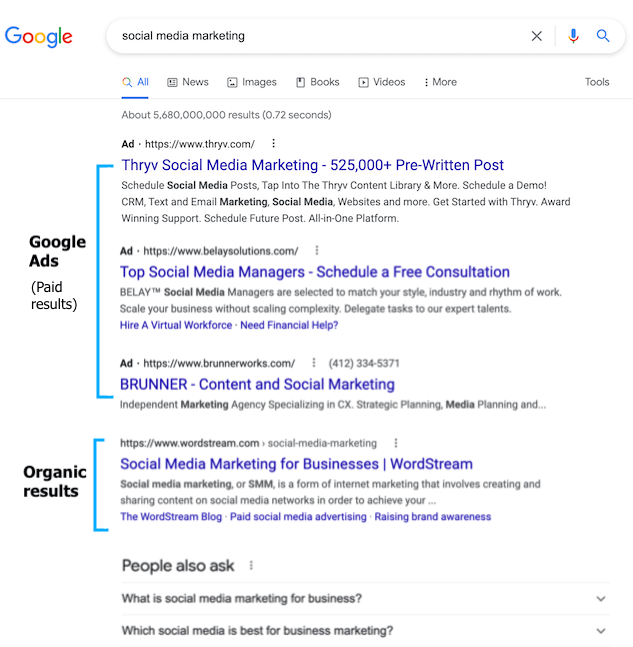 Source: Wordpress.com
How to improve your organic search rankings?
You will need to learn Search Engine Optimization basics to improve your Google ranking. Let's begin by defining what this is. Search Engine Optimization, more commonly known as SEO, is a set of practices designed to improve the appearance and positioning of web pages in organic search results.
Search engine optimization assists Google in determining the purpose of each piece of content on your website. The higher you rank in Google's organic search results, the better Google understands your content. This equals more organic visitors, conversions, and business growth. Even better, if done correctly, on-page SEO increases user experience.
You will need to refine your SEO consistently because Google algorithms keep evolving. Below are some SEO on-page optimization tips for beginners to rank higher on Google organic search results:
SEO Tips for Beginners to rank higher
On-page SEO optimization can include finding relevant keywords, registering for a Google My Business account, optimizing your website for mobile, link building, getting positive reviews, and consistently adding quality content. We've split up effective strategies into the following categories:  
Keyword research.

Optimizing your Google My Business account.

Effective Mobile Search. 

Backlink strategies. 

Generating quality content.
1. Research the best keywords
Keywords are specific words or phrases users enter into search engines to find information or content related to their interests or needs. They serve as a bridge between user queries and the content on web pages. Website owners and marketers often optimize their online content by strategically incorporating relevant keywords to increase visibility in search engine results and attract relevant organic traffic. Keywords are vital in search engine optimization (SEO) and digital marketing strategies.
Some tools help you visualize the average monthly searches for each keyword. In addition to quantitative data, you will need to understand the needs of your potential customers and current trends. Combine these two aspects in your digital strategy, and you can focus your digital content and social media posts to connect with a relevant audience.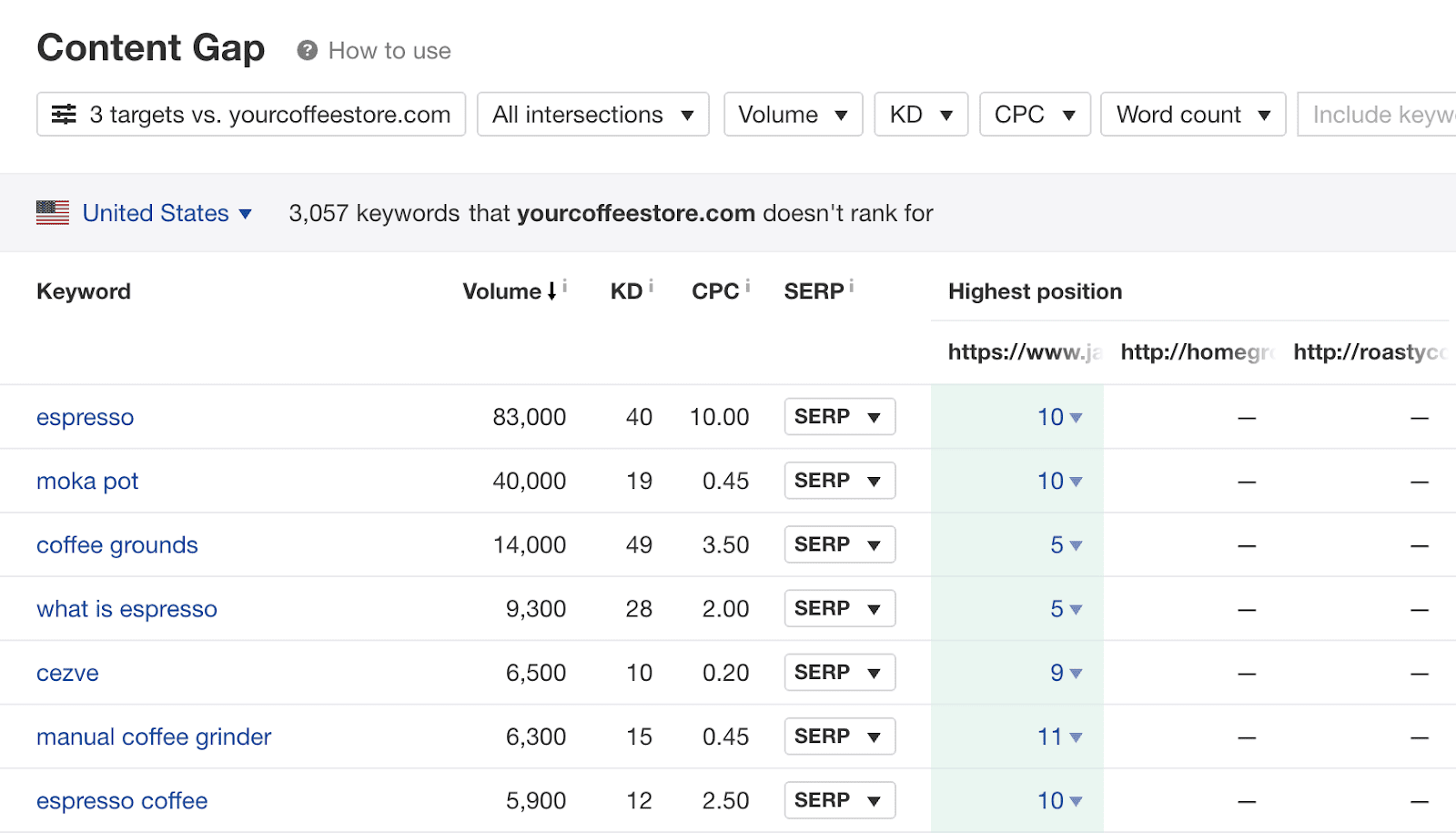 You can choose your keywords carefully by following these tips:
Identify your target audience and the different types of buyer personas that could be interested in your business. We recommend looking at social media, website analytics, and your CRM platform.

Brainstorm keywords: Before you dig into in-depth keyword research, draft up the words and phrases your buyer persona will most likely research to learn about your product or services. 

Keep location in mind: As a small or local business, targeting keywords that include your location name is essential. Google serves up results based on IP addresses, so it's important to signal to Google that you are prominent in your area.

Gather valuable data with keyword research tools: Once you have the pillars of your keyword research, dig into keyword research tools like Google's Keyword Planner tool, Sem Rush, or Ahrefs. These will provide you with specific data such as the number of monthly searches, keyword ranking difficulty, and search volume.
Once you figure out the best keywords for your business, incorporate them into blog posts and throughout your website. Refrain from overstuffing, or Google will think you are doing black hat SEO practices.
2. Create and optimize a Google My Business Profile
A Google My Business page is a free business listing that allows your business to appear in organic and local results. How highly you rank within the results is determined by the quality of your account, content, and your volume of good reviews. 
Keep your Google My Business page relevant, updating it with relevant and valuable content such as special offers, news, and pictures. If you already have a free website from Google, your posts will also appear there.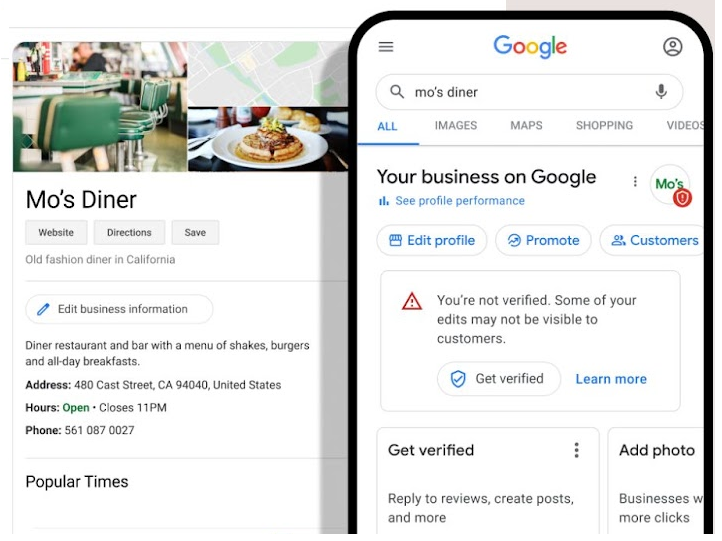 Follow these tips to optimize your Google My Business page:
After conducting our research, use your top-ranking keywords throughout your Google My Business page.   

Choose your business category mindfully. This is a deciding factor in whether your business will be relevant to a search.  

Actively engage with Google reviews. The more reviews, the higher you're likely to rank. Incentivize customers to post reviews. You'll want to respond to both negative and positive reviews because owner response could also boost your ranking.

Use a consistent address. Make sure the physical address you use is compatible with the one on your website and across directories. 

Download Google's Local Search App to keep up to date. This will allow you to update your info, ads quickly, and other messaging from your mobile phone. It also lets customers message you directly for information about your business. 
For more tips and help setting up or creating a Google, My Business account: How to Use Google Local Search to Market your Business.
3. Design your website for mobile search
Nearly 63% of Google's organic searches now are performed on mobile devices, which is why Google ranks mobile-optimized sites higher than those not designed for mobile. Below are some tips to optimizing your website for mobile devices:
Make sure you have a responsive Web Design. Your website should automatically adjust based on the device it's being viewed on. If you have doubts, test your website with Google's mobile-friendly test.

Adapt your website for voice search: 42% of users worldwide conduct their research through voice search assistants like Siri or Google Assistant. Make sure you include a meta description of all images and files. 

Create Accelerated Mobile Pages (AMP). This Google feature helps create more mobile-friendly content and improves search results rankings. 

Reduce unnecessary content. Mobile screens have much less real estate than a computer. Eliminate copy, white space, media, and pages that are not relevant.

Improve page load time. Nearly 70% of consumers admit that page speed impacts their willingness to buy from an online retailer. To decrease bounce rates and low search ranking results, get a great host that assures fast page load time. Check the speed of your site with Google's PageSpeed ​​Insights Report tool.
4. Focus on high-quality content
Don't settle for low-quality content. Keeping your website content updated with copy that includes your primary keywords can help boost your website's traffic. Content can be in the form of blog posts, podcasts, videos, and graphics, but whatever the form, be sure you create content helpful to your target audience.
Maintaining an active blog is easy to keep your website current and relevant. This allows you to create posts that use your keywords while also telling Google your website is up to date without updating your web pages. Consider writing on topics that answer frequently asked questions or sharing your expertise in your industry.
Below are some ways to produce high-quality content:
Be consistent in your posting. Decide on a posting schedule and stick to it for as long as possible; Google sees these updates and ranks your site higher because you continue offering fresh, relevant content to readers.

Use the Google Keyword Planner tool to plan your content based on relevant keywords with high search volume. 

Avoid keyword stuffing. If you force keywords, Google will penalize you and lower your ranking. Additionally, users won't consider your content high-quality and lose trust in your brand. 

Know your search intent and call to action (CTA). All your content should provide relevant information on a particular subject. Align your CTA with your business goals and search intent.

Keep your content up-to-date and relevant. This will push you to become a reliable information source and attract more users over time.
5. Create a backlink strategy 
Building links means that your business is referenced or linked to other sites. This tells Google that your website is an authoritative and relevant source and helps increase your rank. Right now the number one result on Google has 380% more average backlinks than the ones in positions 2-10. Most importantly, they have high-quality backlinks, in other words, they are mentioned in other high-domain authority sites.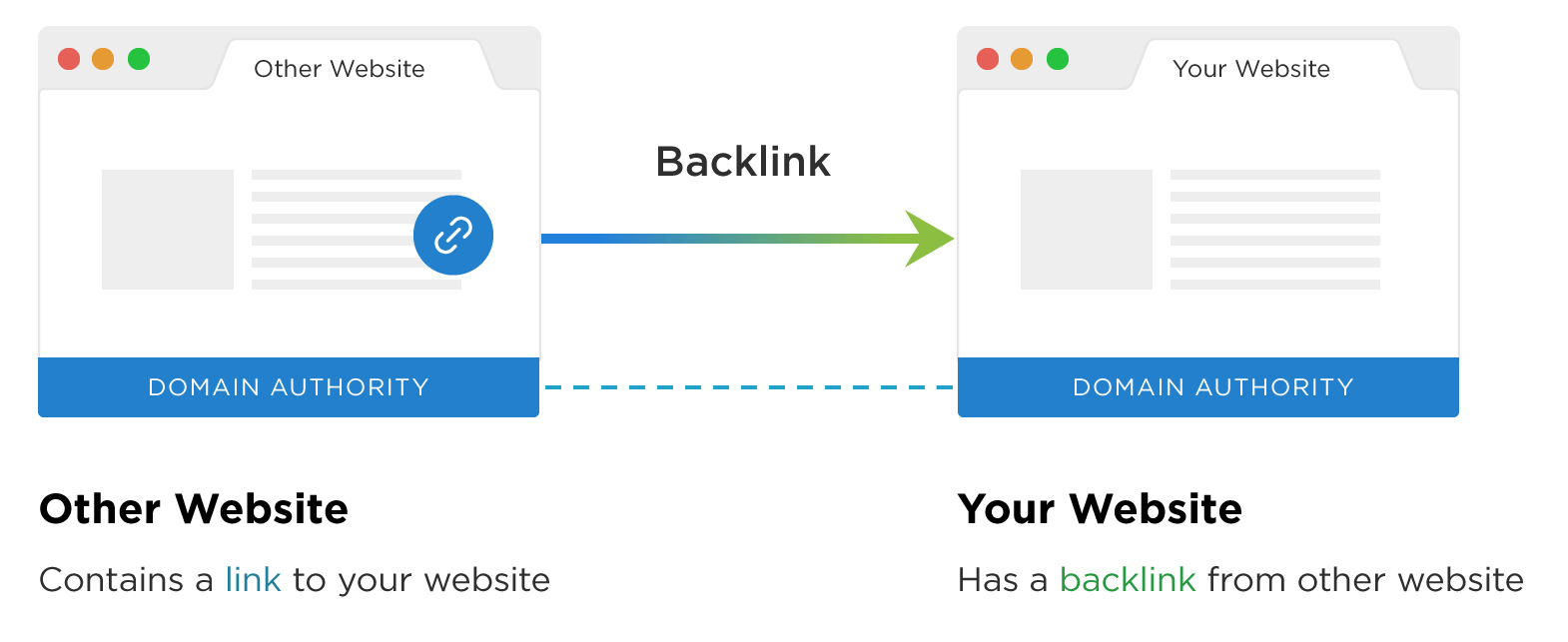 Below are some ways to increase backlinks:
Guest posts on other blogs. Work with other blogs to guest post, providing people with helpful information and encouraging site visitors to talk about your business by linking back to informative posts

Write high-quality content about your specific brand or industry that other brands want to link back to. We recommend generating thought-leadership pieces, using primary sources for your articles, and writing useful how-to guides.

Replace the competition's broken links with your content. Detect broken links in competitor websites and replace them with your own up-to-date content. To detect broken links, we recommend Ahrefs and SEM Rush tools.

Keep up to date with brand mentions. Use tools like Buzzsumo or Google Alerts to track specific key phrases such as your business name, products, or specific services. Reach out to these websites directly to ask them if they can link back to your website.

Make a deal with an influencer that targets your audience. A social media influencer, with the right following and connected to your industry, can help you increase backlinks and connect with the right audience.

Exchange links with other websites. Talk to other brands, industries, or websites that generate similar content but aren't a direct competition to offer a link-for-link exchange deal.
Get funding to increase your digital presence
As a business owner, you already have a lot to deal with. Digital marketing and incorporating high-performing SEO practices to rank high on Google require time management and money investment. 
But you don't have to do it by yourself. SEO professionals, agencies, or hiring an effective marketing team can help you quickly determine how your website should be designed and what content it should contain.
Don't put your digital presence on hold. If you have been in business for three months or more and generate at least $7,500 in monthly revenue, you can access working capital through One Park Financials' funding programs. You can check if you pre-qualify right now in a few minutes.
Disclaimer: The content of this post has been prepared for informational purposes only. It is not intended to provide and should not be relied on for tax, legal, or accounting advice. Consult with your tax, legal, and accounting advisor before engaging in any transaction.