Spotting and dealing with signs of depression in the workplace
---
Tue | June 2022
---
Depression can be challenging to accept, especially in a busy workplace setting. But it's also a common mental health condition that one in five Americans experience throughout their lifetime, during and before work hours. 
Leaders and business owners can make a significant difference in identifying depression among employees, knowing how to respond appropriately, and providing adequate resources to care for their mental health. You must also know how to detect work depression symptoms within yourself. Let's get more insight into what depression entails and how to create a healthy work environment for your employees.
Why workplace mental health matters
Two main factors have given mental health in the newfound workplace importance. First, the pandemic has drastically strained our routine and financial stability, and we still feel the collateral effects. Studies by the WHO prove that during the first year of COVID-19 global prevalence of anxiety and depression increased by 25%. 
But looking on the brighter side, Americans are also stepping up to openly talk about their current mental health conditions, despite stigma or prejudice. For example, data from the State of Mental Health in America 2021 survey shows that the number of people seeking help for depression increased significantly from 2019 to 2021.
These current findings motivate and concern us. However, now that we're more prone to talk about mental health, there's noticeable room for improvement- especially when it comes to gaining awareness about common health conditions such as depression. Let's get some insight into what depression in the workplace entails and see what initiatives you can start implementing. 
Spotting signs of depression in the workplace
Depression is often a word that gets tossed around easily, and it shouldn't be used to talk about usual mood fluctuations or short-lived emotional responses to challenges in everyday life. Depression is a severe mood disorder that causes mental and physical suffering, feelings of sadness, and anger. It interferes in all aspects of a person's life-not, just in the workplace. 
These red flags can help you determine the signs and symptoms of depression:
Taking an extended number of sick days off work

Trouble meeting deadlines or goals.

Constant fatigue or lack of energy

Toxic or harmful relationships with coworkers.

Loss of appetite or drastic weight changes.

High levels of aggressiveness and irritability in their communication.

Drastic mood-swings. 

Expressions of feeling "empty," loss of interest, or suicide. 

Loss of cognitive abilities such as focus or critical thinking. 

Extreme isolation among coworkers. 
This complex mental health condition can also lead to substance abuse and anxiety disorders. But every case is unique. Symptoms vary depending on the person and should always be diagnosed by a mental health professional. 
How to address signs of depression at work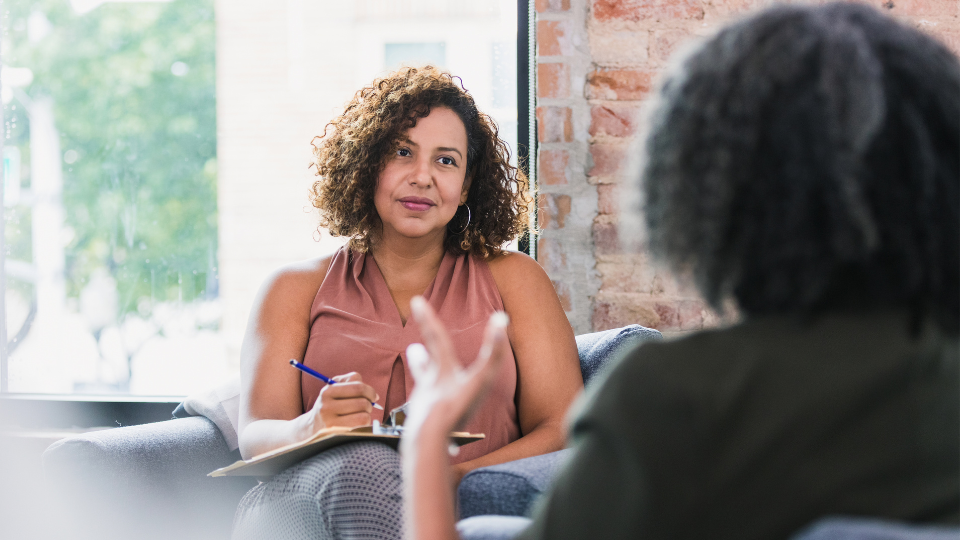 Establishing a healthy environment can empower employees to ask for help when needed and minimizes risks in your organization. In addition, it also nurtures growth and higher levels of employee satisfaction. If this sounds like a fair deal, here are specific initiatives you can start applying to prevent and manage depression at the workplace: 
1. Include daily conversations to check up on employee mental health
Create a company culture that allows employees to share their concerns. It should come naturally and on a day-to-day basis. It can be as simple as asking each meeting participant to state how they're feeling in one word. For example, Marcus feels frustrated because he didn't close a deal with a customer, or Tina feels excited because her parents are coming to visit this weekend. Simple gestures like this will help you tune in with the overall feel of your employees and detect possible warning signs beforehand. 
2. Identify signs of depression in your leadership team
Leaders are a fundamental building block in creating a healthy and productive work environment. Yet, surprisingly, research estimates that the rate of depression for business leaders doubles the general population's rate. This is partly due to the high pressure and stress they experience as prominent decision-makers.
Learn to identify signs of depression in your leadership team and teach them how to identify them amongst their team members. In addition, keep an eye out for warning signs such as passive-aggressive communications or prolonged work hours that also lead to burnout. 
3. Treat mental conditions in your health insurance program
The most effective way to treat depression and other mental conditions is with the help of a professional. Make sure your employees can get access to psychological assistance when needed. For example, you could include the Collaborative Care Model (CoCM) in your health care plan that provides for psychiatrists and primary care providers. Or you can also use the Employee Assistance Program (EAP) to connect employees with free and confidential counseling. These programs traditionally treat employees dealing with alcohol or substance abuse but can also help detect depression or other mental conditions. 
4. Create a safe psychological space for employees dealing with depression
Dealing with depression isn't something that employees can easily talk about, so you should create a safe psychological space for them inside the workplace. Some ideas include providing a secure portal where employees who recognize or experience high-risk behavior can anonymously ask for help. Or having regular confidential check-ups with underperforming employees also considers their mental health. 
5. Educate your employees about mental health conditions 
Educate your employees about mental health conditions and how to identify symptoms amongst themselves and coworkers. We spend most of our time at the workplace and have a huge opportunity to identify red flags before it leads to drastic consequences such as depression or suicide. 
When you are educating employees about mental health, do it cautiously. Watch your language, avoid stigmatizing mental health using terms like "mental illness" or "mental disorder," and opt for "Mental health conditions" instead. In addition, many mental health training programs like Mental Health First Aid can teach participants how to notice and support employees experiencing mental health conditions. 
What resources are available to help people with depression?
There are many distinguished health associations that you and employees can turn to. Create conscience and hope in times of emergency by keeping the following resources openly available to employees:
Promoting employee well-being
Most employers demand high levels of performance and productivity among their employees, which means that some may be hesitant when dealing with signs of depression in the workplace. Consequently, one in five Americans is currently affected by mental health issues, and depression is at the top of the charts. Not only that- but this disorder causes a $ 44 billion loss in productivity nationwide. 
When employers invest in mental health initiatives, they are taking a vital step to improve the mental health situation nationwide. However, if you need additional working capital to expand your employee benefits or equip your leadership with the right resources to deal with depression at the workplace, we can help.
Disclaimer: The content of this article is based on the author's opinions and recommendations alone. This material has been prepared for informational purposes only. It is not intended to provide and should not be relied on for tax, legal, or accounting advice. We suggest consulting with your tax, legal, and accounting advisor before engaging in any transaction.